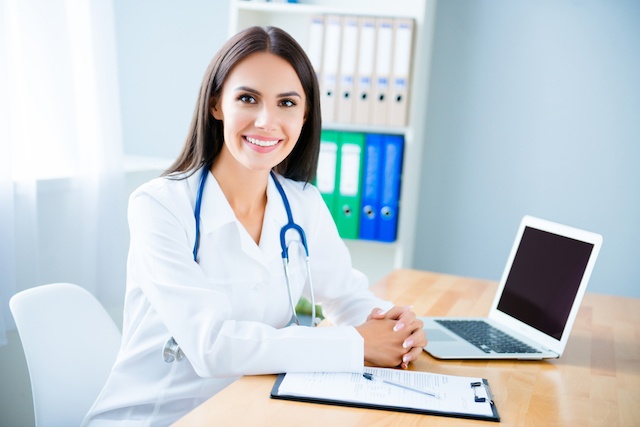 A survey conducted by The Physicians Foundation found that nearly one-third of the physicians interviewed see up to 30 patients per day. If you take into account the average length of the face-to-face interaction between a physician and his or her patient in the exam room is 15 minutes, that doesn't leave much time in the day to handle all of the other responsibilities that come with running a private practice.
The good news is there are several online tools for private practices than can help improve patient workflow and clinic efficiency while simultaneously providing a positive patient experience.
Here are six online tools clinicians should consider using.
Practice Improvement: AMA STEPS Forward
Launched in 2005, the goal of the American Medical Association's (AMA) online physician resource AMA STEPS Forward is to offer private practice physicians strategies for improving their clinics. AMA STEPS Forward features over 40 different interactive educational modules to help doctors achieve what the AMA refers to as the Quadruple Aim:
Better patient experience

Improved population health

Lower overall costs

Increased professional satisfaction
The modules contain real-world solutions to common practice challenges, steps for implementation, case studies, downloadable videos and tools in five categories—Patient Care, Workflow and Process, Leading Change, Professional Well-Being and Technology and Finance. AMA STEPS Forward also provides continuing medical education (CME) opportunities.
Medical Literature: Read by QxMD, NEJM This Week and UpToDate
Read by QxMD, NEJM This Week and UpToDate are three mobile apps developed by PubMed, the New England Journal of Medicine (NEJM) and Wolters Kluwer, respectively.
All three tools for private practices enable physicians to browse recent articles and review the latest clinical research reports. However, each app offers benefits that the others do not. For example …
Read by QxMD

enables physicians to centralize all medical literature including studies and articles into one personalized journal

NEJM This Week

includes additional resources such as audio summaries of popular NEJM essays as well as the option to download procedural videos

UpToDate

offers clinicians the opportunity to earn continuing medical education credits, access to medical calculators and the option to integrate

UpToDate

into a practice's electronic medical records (EMR)
The one caveat is that UpToDate requires doctors to purchase an annual subscription whereas NEJM This Week and Read by QxMD are both free.
Point-of-Care Software: PEPID PCP
PEPID provides a suite of online point-of-care solutions for healthcare professionals across multiple disciplines. PEPID's goal is to "provide all healthcare professionals with instantly accessible, current, comprehensive and authoritative clinical point-of-care reference materials to help them provide faster, more individualized, and more effective health care." The information and tools offered by PEPID empower private practice physicians to enhance patient safety, increase speed of care, improve patient outcomes and grow their own levels of satisfaction as clinicians.
One of PEPID's solutions, PEPID PCP, is designed specifically for primary care physicians. The software gives physicians access to a drug database of more than 13,000 medications in addition to clinical references, such as profiles of diseases, medical conditions and treatment options. It also features a pill identification tool, drug interaction and drug allergy checkers, dosing calculators and evidence-based practice recommendations. With PEPID PCP, doctors can more easily and more quickly diagnose and treat their patients.
Drug Reference and Diagnostics: Epocrates
Epocrates is a mobile app that offers private practice physicians access to the most up-to-date diagnostic and treatment information to help avoid drug interactions and adverse drug events (ADEs). According to the 2012 Specialty Survey conducted by Epocrates, approximately 25 percent of the physicians interviewed said Epocrates helped them avoid three ADEs per week.
Epocrates' Interaction Check module allows clinicians to check for potentially harmful drug-drug interactions between brand, generic and OTC medications. The interaction profile identifies which specific ingredients could cause the interaction, helping doctors know exactly which drug component may need to be adjusted, monitored or substituted. The app also contains quick reference guides with summaries of guidelines and drug information such as drug classes and therapeutic drug levels.
While it may seem as if there will never be enough time in the day, the above online tools can help physicians get a bit more out of the hours they do have. In addition to these recommendations, clinicians can also research medical practice management systems which are another great tool for improving practice efficiency.