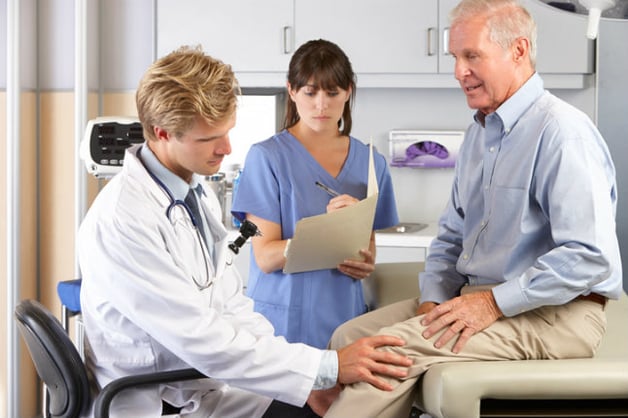 Regardless of your industry or position, it can be easy to miss the forest for the trees. In medicine, that usually means viewing the procedure or the medication or the therapy as the totality of medical care. But patients perceive their experience holistically—from the first appointment to the final post-op evaluation.
Orthopedic surgeons who focus on the patient rather than their condition can provide more comprehensive, patient-centered care. They are adept at building personal, empathetic relationships with their patients, resulting in better communication and, in turn, increased patient satisfaction.
Read on to discover how to implement patient-centered care in orthopedics.
Transfer of Information
Orthopedic surgeons have many years of formal medical education and experience that contribute to their clinical knowledge. Their duty is to provide the patient and his or her family with the necessary information to make an educated decision about their treatment. Physicians should discuss the benefits of particular treatments, possible adverse reactions and a specific time frame for reevaluation and results. It is the provider's responsibility to honor the trust the patient has placed in them as a medical expert and ensure they advise the patient on the best course of action for the condition.
A common challenge orthopedic surgeons face during this interaction is a discrepancy between what the physician believes has been conveyed and what the patient actually hears or understands. This could be due to many factors, including patient anxiety about the situation, low levels of education or cultural differences. One approach orthopedic surgeons can take to reduce confusion is to ask the patient to summarize what he has just explained. This gives the immediate feedback on whether clarification is necessary.
Shared Decision Making
The objective of shared decision making is to directly involve patients in discussions regarding their plan of care. The physician's responsibility is to provide their clinical knowledge and expertise; the patient's role is to communicate preferences and treatment goals. When patients are encouraged to take an active part of treatment decisions, they feel empowered and more in control of their health.
Orthopedic surgeons can suggest future goals to help patients take ownership of their treatment program, and scheduling follow-up examinations inspires patients to stay motivated and track their progress through recovery.
Patient Feedback
Traditionally, doctors have used physician-centered evaluation tools to measure outcomes. However, the best way to accurately assess how patients feel about their care is to simply ask them directly. More and more providers have realized the need to systematically acquire feedback from patients to understand the effectiveness of treatment as well as to determine success or failure of procedures.
Patient Satisfaction Surveys
While orthopedic surgeons obviously have a thorough grasp on the technical side of care, patients are better at assessing the service aspect. It has been repeatedly shown that the patient's perception of their treatment has the largest impact on improved outcomes.
Patient satisfaction surveys provide clinicians with insight into the patient experience and help identify areas for improvement. Physicians who take advantage of surveys will gain actionable information regarding patient interactions which they can use to guarantee they are providing the highest quality care.
Orthopedic surgeons have an understandable tendency to focus more on the scientific facets on patient care. However, when clinicians educate their patients, empathize with their needs and involve them in their care decisions, everyone benefits. Taking a patient-centered approach to orthopedics certainly represents a paradigm shift, but this article should help serve as a good starting point.
Patient-centered care can help the clinical side of your practice, but how can you improve the operational side? Download the free eBook, Stop the Budget Bleed How Private-Practice Physicians Can Reduce Spend, to learn how to have a more efficient practice.