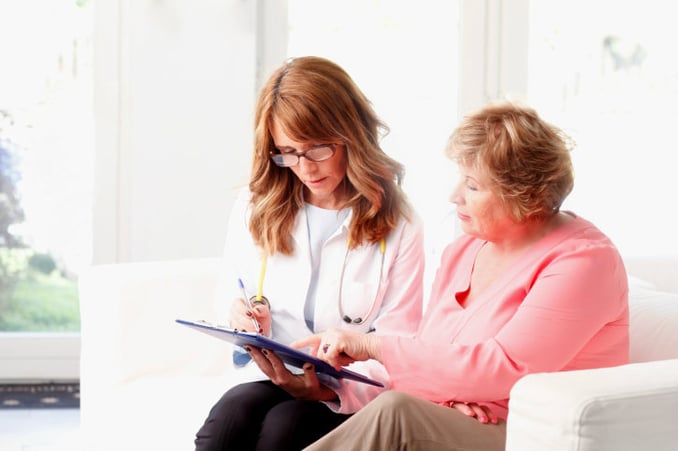 Over the last several years, patients have begun taking a much greater vested interest in their health and wellness. While patients of previous generations took their doctor's word at face value, today's patients are researching their symptoms and conditions online, downloading case studies and engaging with other patients in internet forums. While this means some patients arrive for their visit armed with a self-diagnosis and droves of misinformation, it also means people are becoming more invested in their treatment.
To leverage this interest, and help patients take a more active role in their care plan, many healthcare providers are using Shared Decision Making (SDM). In other words, it's a strategy in which, instead of making a decision on a patient's behalf, clinicians provide patients with the knowledge they need and walk through the decision-making process together.
Here are three things you should know about SDM, and how to best implement it in your own practice:
Share Decision Making is Based in Epistemology
Epistemology, or the theory of knowledge that investigates the difference of belief versus opinion, is something physicians use every day. You're used to not only explaining your diagnosis, but how you arrived at this conclusion. When it comes to SDM, however, it's a two-way street. For this strategy to be successful, two things must first be true: (1) Your patient must trust you are an expert on the topic at hand, and (2) You must trust your patient has at least some knowledge on the topic, as well. This allows you to have an open and honest discussion about his or her health and care plan.
There are 3 Stages of Shared Decision Making
The great thing about developing care plans is it gives you the opportunity to provide your patient with a treatment roadmap. The downside is your patients may not always follow these instructions. The best way to achieve their buy-in is to develop this plan together using the three stages of SDM. They include:
Choices: After you've evaluated and diagnosed your patient, the first step in the SDM process is to provide the patient with all the choices she can make about her treatment.
Options: The next step is to explain the various treatment options in depth. During this phase, you should highlight the potential benefits and risks for each treatment path, and provide resources she can use to learn more about each option.
Decisions: During the final phase of SDM, you should help your patient weigh the benefits and risks, discuss any additional concerns and assist her in making a decision that makes her feel comfortable.
Shared Decision Making Improves Patient Satisfaction
One of the greatest benefits of SDM is it empowers patients and helps them form more open relationships with their physicians. This not only helps ensure your patients take a more vested approach to their care plan, but they'll also feel more comfortable coming to you with follow-up questions and concerns.
"Shared decision making really gets to the heart of what engages patients," says Dr. Andrew Dorwart, MD, at Stillwater Medical Group in Stillwater, MN. "Physicians and patients are very satisfied when patients have the information they need to make appropriate decisions."
By empowering and engaging patients to make decisions about their health with your expert guidance, you can increase patient satisfaction and build long-term relationships with your patients.
Building relationships is key to improving patient satisfaction, but it's also important to focus on patient comfort. Review our line of patient comfort solutions, designed just for physicians like you.