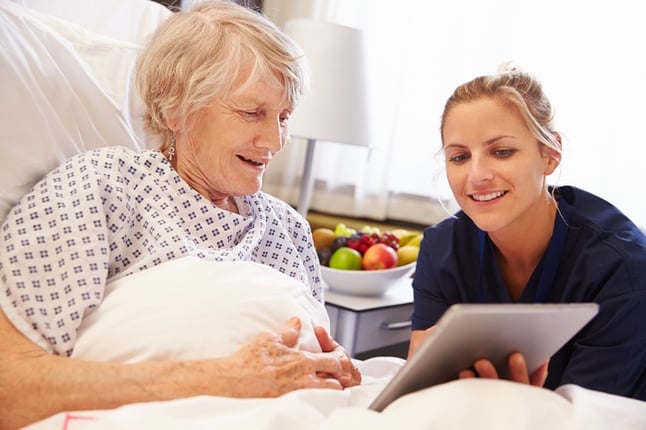 Though nurses have a laundry list of responsibilities during each shift, when it comes to patient care, there are two main priorities: providing compassionate medical treatment and involving patients in care decisions.
Once these primary duties are addressed, most nurses choose to go above and beyond to ensure a patient's stay at the hospital is as comfortable as possible. While there are dozens of ways to accomplish this goal, there may be a few you might not have considered.
Take a look at three uncommon ways nurses can improve patient care and increase satisfaction.
Decrease Noise Levels
No matter how hard you try to reduce noise, it's impossible to completely prevent auditory disturbances in a busy hospital. Unfortunately, high noise levels can disrupt your patients' sleep and their ability to rest and recover. When University of Chicago Medical Center researchers studied the issue, they discovered noise levels of 67 decibels in the ICU and 42 decibels in the surgical wards — well above the 30 decibels recommended by the World Health Organization.
One way to minimize the cacophony of a hospital is with sound masking systems. Sound masking systems provide subtle background noise that not only helps your patients rest but also improves patient privacy by making it more difficult for conversations to be overheard. The systems are installed in ceilings and can be added to public spaces, treatment areas and patient rooms.
If a sound masking system isn't in the budget, a few low-tech solutions can be helpful, such as decreasing the frequency of overhead paging, turning down the volume on equipment alarms, offering ear plugs to patients and conducting noisy activities only during daylight hours.
Use Careboards
A low-cost and effective way to improve patient care is by using careboards—erasable whiteboards where nurses can record important patient and care management information.
A 2012 study by the Robert Wood Johnson Foundation monitored three hospitals across the United States that implemented successful patient care strategies. One of the organizations, United Hospital of Allina Hospitals & Clinics, began communicating about pain management through the use of careboards.
The nursing team reported that the boards improved their workflow by reducing the number of questions from patients who didn't know when they would be administered their next dose of pain medication. And patients said they felt more at ease knowing hospital staff felt managing their pain was a priority. Patients also claimed to feel more empowered because they were actively involved in their own plan of care.
Try Music Therapy
Listening to music is more than just a pleasant activity. Research studies have shown music acts on the parasympathetic nervous system, establishing a state of calm by slowing the respiratory and cardiac rhythms and relaxing muscles.
Listening to relaxing music can minimize both chronic and postoperative pain as well as reduce blood pressure. Music can help reduce pre-procedure anxiety. Music therapy is appropriate for several different categories of patients—including pediatric patients, cancer patients, patients with psychological conditions and end-of-life patients. Finally, music has the added benefit of helping muffle other annoying sounds in a hospital.
While treating a patient's primary complaint and working to increase their comfort is certainly a nurse's No. 1 objective, the patient-centered care approach encourages providers to also consider the emotional needs of their patients. Minimizing hospital noise, using careboards to keep patients informed about their pain management and practicing music therapy can help address the emotional aspect of patient care and improve the patient experience.
Using topical anesthetics is another effective method for improving patient care. Our Topical Anesthetic Comparison Chart can help you determine which topical anesthetic is best for your hospital.