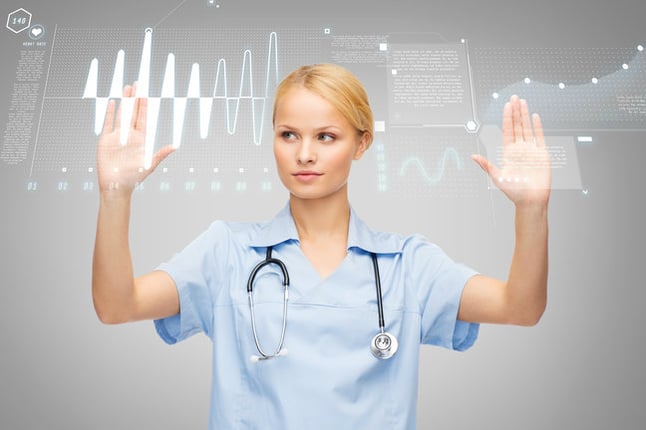 There has never been a more exciting time to be a nurse. Not only is the number of clinical technologies designed to help make nursing easier and improve patient care constantly increasing, but the opportunities for growth as a nurse are increasing as well.
The healthcare environment is dynamic, with medical breakthroughs emerging every day. To stay ahead of the game, nurses must stay up to date with the latest trends as well as potential future healthcare developments.
As 2017 begins, take a look at these three trends to get an idea of what the future of nursing will look like over the coming months.
Increased Reliance on Technology
Clinical technologies are evolving at a rapid rate. Every year, new types of healthcare software and devices improve the way nurses do their job. For example, in many hospitals point-of-care handheld computers, electronic IV monitors and barcode medication administration systems have replaced manual systems. Furthermore, by 2018, all healthcare organizations receiving Medicare and Medicaid reimbursement will be required to demonstrate meaningful use of electronic health records (EHR) to avoid decreased reimbursement.
Learning (and mastering) these technologies will take time—especially for nurses who are accustomed to more traditional patient interactions and charting processes. Though the transition may be difficult at times, the ultimate goal is to support healthcare professionals and improve the level of care they provide.
New Career Opportunities
While the number of patient-facing nursing roles will continue to grow, alternative nursing positions will increase in popularity as well. For example, nurses can consider a career as one of the following:
Legal Nurse Consultant
Nurse Case Manager
Nurse Researcher
Forensic Nurse
These are just a few of the positions outside of the hospital or clinic that nurses can pursue.
According to the Bureau of Labor Statistics, employment for registered nurses is expected to increase by a remarkable 16 percent between 2014 and 2024. Additionally, as baby boomers retire, more nursing positions will become available, including leadership roles and vital positions in administration. That's especially good news for millennials (who now outnumber the boomers) and Gen Xers whose numbers aren't far behind.
Emphasis on Education
As more hospitals make a Bachelor of Science in Nursing (BSN) an entry-level requirement, the healthcare field will see an increase in nurses earning their BSN and nurses pursuing advanced degrees such as Master of Science in Nursing (MSN) to stay competitive in the job market.
Though continuing medical education (CME) has always been a priority for nurses, the aforementioned ever-evolving clinical technology landscape will make CME even more important. Since many healthcare organizations understand attending CME classes can be inconvenient, there will likely be an increase in the availability of online courses.
While there are no guarantees of what the future of nursing will look like, every nurse has a responsibility to their patients and themselves to always be on the lookout for new ways to improve the quality of care they provide. Nurses who embrace new clinical technology, focus on their professional development and seek out opportunities to increase their knowledge will be in an excellent position in the coming year.
Although the future of nursing will likely see many changes, patient-centered care is one of the best ways to increase patient satisfaction. Learn more about patient-centered care in our free SlideShare, Nurse Leaders: Empower Your Team to Provide Patient-Centered Care.