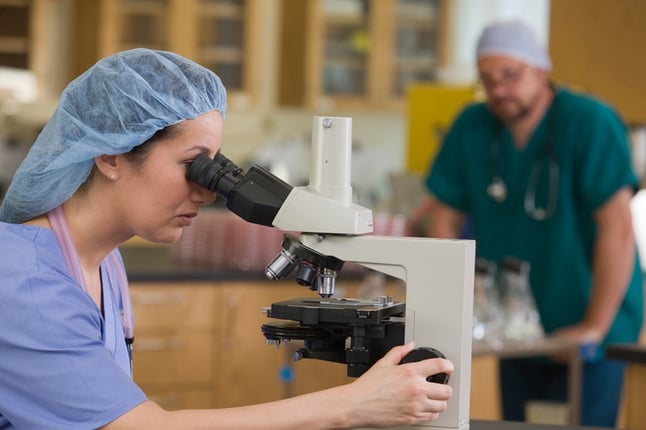 Whether you've recently graduated with your BSN, or you've already spent a few years at a hospital and are looking for something new, many different roles in the field of nursing can be the next step in your career.
In this article, we'll discuss four career paths in the nursing field you can take if the clinic or hospital environment is not the right fit for your professional goals.
1. Legal Nurse Consultant
A legal nurse consultant is the go-to medical authority for a legal team. They apply the knowledge they acquired during their education, training and clinical experience to assist with claims and cases involving medically related issues.
Typical Job Duties
Review and organize patient records and pertinent medical literature
Educate attorneys on relevant medical terminology and how to interpret patient records
Prepare evidence for deposition and trial
Draft or analyze medical sections of legal documents
Serve as an expert witness during proceedings
Settings
Hospitals and other healthcare facilities
Pharmaceutical manufacturers
Insurance providers
Government agencies
2. Nurse Case Manager
Nurse case managers are responsible for coordinating the long-term care of patients with chronic medical conditions. They work closely with the patient and the patient's family to evaluate the patient's needs and create an appropriate plan of care. Nurse case managers often specialize in helping specific groups of patients—for example, pediatric, geriatric, patients with head injuries or cancer patients.
Typical Job Duties
Research the latest medical treatments to determine the best plan of care
Schedule doctor's appointments and other procedures
Encourage patient independence and self-managed care
Coordinate with insurance companies to find the most cost-effective way for their patients to receive the highest quality care
Settings
Hospitals
Third-party payers
Social welfare organizations
3. Nurse Researcher
Nurse researchers are scientists who conduct research on facets of health, illness and health care. Their goal is to advance the field of nursing by providing evidence-based information healthcare professionals can use to provide better care and improve patient outcomes.
Typical Job Duties
Identify opportunities for research
Design and perform scientific studies
Gather and evaluate study data
Report study findings
Settings
Healthcare facilities
Research organizations
Nonprofit organizations
Universities
4. Forensic Nurse
Forensic nurses help investigate incidents of violence and accidents involving injury or death—for example, domestic abuse, sexual assault, worker's compensation claims and motor vehicle accidents. They are integral in bridging the gap between medicine and the law, as they are well-versed in both health care and the criminal justice system.
Typical Job Duties
Collect evidence, such as blood and tissue samples and photographs of injuries
Consult with legal authorities
Provide testimony in court
Administer care and give support to victims
Settings
Coroner's and medical examiner's offices
Correctional institutions
Urgent care centers
Working in a hospital or clinic is not for everyone, and there are dozens of careers in the nursing field outside the hospital. You worked hard throughout school, so be sure the way you use your BSN is best for you.
No matter your role in the industry, a nurse's primary goal is to ensure patients are satisfied with their care. Check out our free eBook, How Nurses Can Increase Satisfaction through Patient-Centered Care, to learn how nurses can provide the highest quality of care.