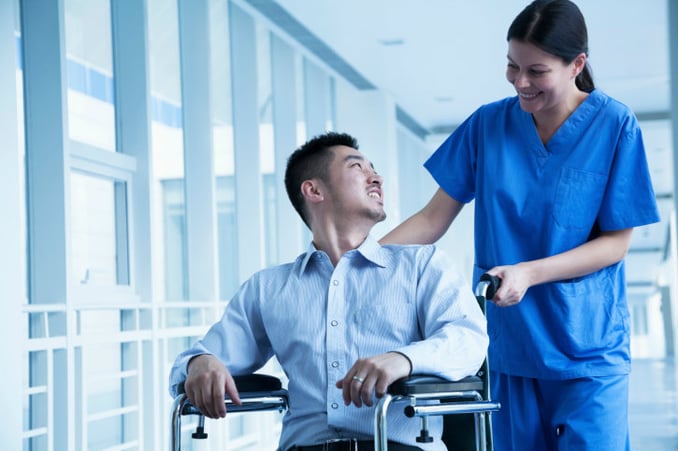 When a patient is admitted to your hospital, it's up to you, your team and your hospital's physicians to treat his or her concerns fully and completely. Theoretically, if you accomplish this task, your patients will start a successful road to recovery and return to their lives. Unfortunately, this isn't always the case.
Unplanned hospital readmission, or a patient's return to the hospital for the same or related issue is not only inconvenient for the patient, it also poses a significant concern for hospitals. That's because, as of October 2012, the federal government began penalizing hospitals with excessive readmission rates in the form of reduced Medicare reimbursement. Not to mention, readmissions can affect patient satisfaction and strain hospital resources.
Because nurse leaders play such a vital role in a patient's hospital experience, it's often up to you and your team to reduce the risk of readmission. To help you achieve this goal, we've put together three tips to decrease your hospital's unexpected readmissions:
Recognize Who is Most at Risk
In some cases, even after doing everything possible to avoid them, readmissions occur. To determine what constitutes excessive readmission, the Hospital Readmissions Reduction Program uses a ratio: the number of patients predicted to be readmitted within 30 days (based on historical data) divided by the expected number of readmissions. Any ratio higher than 1:1 indicates excessive readmission.
Medicare.gov predicts patients admitted for heart attack, heart failure, pneumonia, hip/knee replacement and COPD to be the most common and expected readmission cases.
To be fair, however, the Hospital Readmissions Reduction Program also adjusts results to account for differences in patients that may increase the likelihood of readmission, such as past medical history and age.
Ensure Clear and Consistent Communication
Is there another facet to your patient's issue he hasn't explained? Is there a language barrier preventing your patient from fully explaining her needs? If you aren't openly and clearly communicating with your patients throughout their hospital stay, you may miss something critical to their treatment.
On-staff translators fluent in multiple languages, as well as translators fluent in American Sign Language for hearing-impaired patients who can work alongside your nursing staff are crucial for your hospital's success in reducing readmission rates.
Re-Evaluate Your Discharge Process
The best time to prevent readmission is before your patient leaves the hospital. All too often, hospital staff hurry through the discharge process in an effort to free up bed space for incoming patients. By taking a moment to re-evaluate this process, you may discover areas of opportunity. Ask yourself:
Who is responsible for educating patients on post-admission care?
How do you ensure your patients fully comprehend what they must do to avoid readmission?
Do your patients know who to contact with follow-up questions?
Is there a follow-up process for checking in on patients after they return home?
The answers to these questions can help you work toward building a stronger discharge process.
Overall, hospital readmission is a challenge every institution faces. Even after you implement better processes to focus on decreasing your readmission rate, there will always be cases in which a patient must be readmitted. However, by understanding how excessive readmission rates are calculated, recognizing who is at risk, ensuring clear and consistent communication and re-evaluating your discharge process, you can work toward eliminating preventable readmissions.
Reducing readmission can help increase patient satisfaction. For other ways to improve your hospital's patient satisfaction rate, check out our guide How Nurses Can Increase Satisfaction through Patient-Centered Care.