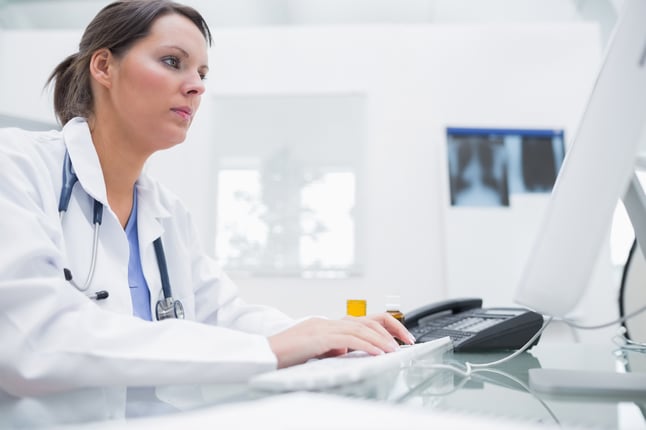 Technology always has had an impact on healthcare — from pacemakers and MRI machines to electronic health records (EHR) and robotics. The goal of these healthcare technologies has and will continue to be helping medical professionals provide the highest-quality, patient-centered care in the most efficient way possible.
One healthcare technology that has been increasing in popularity is a patient portal which gives patients access to their health data via a website connected to a medical practice's EHR. Patient portals can help improve the patient experience and operations at your clinic.
Here are four ways private practice physicians can benefit from patient portals.
Physicians and their staff may spend less time on the phone.
According to Mary Pat Whaley, president of the medical practice management consulting firm Manage My Practice, phone calls to private practices increased 25-50 percent between 2008 and 2013.
A patient portal reduces the amount of time physicians and their staff spend on the phone without hurting overall patient communication. Patients can use the portal to schedule appointments and request medication refills without having to call the office, which means they can get in touch outside of clinic hours. Since only one patient can reserve an appointment time, the likelihood of double-booking is much lower. Plus, a patient portal also automates other time-consuming tasks, such as appointment reminders.
In addition to booking appointments online, patients can reach out to providers via the patient portal with non-urgent questions. Doctors can respond to messages when it's most convenient for them, instead of interrupting their day to take a call.
Addressing questions by email can also be less time-intensive than making phone calls. As an added benefit, writing a message may encourage more verbose patients to focus on their questions and omit extraneous information.
Reducing the time spent on the phone means clinicians and their staff will have more time during the day to manage other tasks.
The practice can receive patient payments more quickly.
In addition to allowing patients to book appointments and submit refill requests virtually, a patient portal enables patients to pay their bills online.
If patients can only pay bills by phone or mail, they'll either have to wait until the clinic is open or make a trip to the post office. This can be inconvenient, especially for older patients who may not be able to visit a post office without assistance. As a result, payments may be delayed.
Another task private practice physicians can automate is sending bill payment reminders. Younger patients likely are more accustomed to communicating electronically, and a physical bill may be misplaced. However, if the patient receives an automated message that they have a payment due, it will be easier for them to make a payment (something they'll appreciate) and the practice will receive payment more quickly (something providers will appreciate).
Patients will have quicker access to lab results.
Waiting to hear back on test results or diagnoses can be stressful for patients, and due to HIPAA regulations, doctors and their staff cannot leave a voicemail. This means if the patient doesn't answer, he or she will have to call back, leading to more time the clinician or support staff has to spend on the phone. Electronic communication via a patient portal is HIPAA-compliant and allows physicians to more efficiently coordinate care.
If the lab results are normal or do not require a follow-up appointment, this information can be entered into the patient portal and the patient can access them there. If the patient needs to schedule a follow-up, the portal can be configured to send an alert email, as well. With on-demand access to test results and clinical histories, patients can more easily discuss this information with other providers when appropriate.
Patient outcomes can be consistently more positive.
Although private practice physicians will provide relevant treatment information during a patient's visit, how much of that information the patient retains will vary. If the doctor or his or her staff uploads medical literature to a patient portal, the patient can consult it after they have left the office, which can help increase compliance with treatment plans.
A patient will feel more independent and in control of their treatment if they can find answers to their questions quickly without having to reach out to the clinic for assistance. Plus, they'll get a more accurate answer than what Google will offer.
A patient portal can offer dashboards and visual representations of a patient's care plan and their progress. This can make it easier for patients to visualize their clinical status as well as how their decisions impact it, which encourages them to take a more active role in their treatment. For example, when patients who have diabetes view their A1C test results for the past four years on the portal, the benefits of exercise and dietary changes are immediately clear.
Patient portals can offer private practice physicians numerous benefits for both their practice and their patients. As the impact of technology on healthcare continues to grow, it is in clinicians' best interest to adopt these more efficient methods of organizing clinical data and communicating with patients.
Would you like to decrease spending without affecting patient care? Read our free eBook, Stop the Budget Bleed: How Private Practice Physicians Can Reduce Spend.