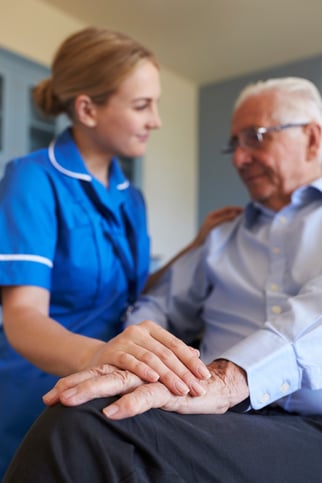 When it comes to easing patient anxiety and improving the patient experience, the responsibility usually falls on you, the nursing professionals. Have you heard this question before: "Is this going to hurt?" Probably on a daily basis, right? But we found some time savers you can try that can get your patient the pain relief they're looking for—faster.
You rarely hear a working nurse say, "Oh, I have plenty of time." The fact is advances in medical technology are leading to a reduction in inpatient surgeries, but creating an increasing number of day-case procedures. This means you're treating more patients each day and have limited time to spend easing patient anxiety.
The good news is that even in today's fast-paced healthcare environment, nurses can provide patient comfort solutions in a matter of seconds. So, for you to quickly provide the pain relief your patients need, here a five time savers to help you provide patient care in the most efficient and caring way.
Deep Breaths
Take deep breaths before interacting with patients to maintain a calm, positive demeanor. Deep-breathing techniques have been scientifically proven to be a solution for stress and anxiety.
Explaining the Procedure
Fully explain even routine procedures before you begin. Part of improving patient experience and providing pain relief is eliminating communication barriers. Studies show how it may even affect your patient's safety.
Patient Questions
Your patients may ask a lot of questions, especially if they're anxious, or in need of pain relief. Make sure to ask if your patient has any questions. Asking for questions upfront will save you time and confusion later on.
Avoid Multitasking
Don't try to multitask! As this study shows, although nurses manage interruptions and multitasking well, the potential for errors is present, and strategies to decrease interruptions are needed.
Topical Anesthetic Skin Refrigerant
Take steps to ease patient pain like using a topical anesthetic skin refrigerant. Topical anesthetic skin refrigerants reduce the pain associated with needle or minor surgical procedures. And while some products can take up to 20 minutes to take effect, vapocoolants work instantly. When patients see a nurse administer the product and feel the cooling sensation on their skin, they know every effort is being made to provide pain relief.
As a practicing nurse, you're treating more patients each day. Dedicating a few seconds to show patients compassion means a lot, like:
Less anxious patients
Better patient experience
Faster pain relief
Healthier medical environment
So, if you're looking for time savers, or better ways to improve your patient experience, and provide pain relief at the same time, learn more about Pain Ease topical anesthetic skin refrigerant and how it works.