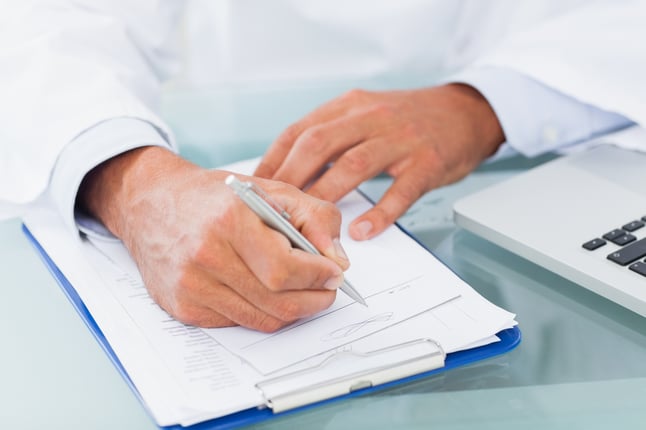 With the introduction of the Medicare Electronic Health Record (EHR) incentive program and Meaningful Use, physicians have faced even greater pressure to balance efficiency and patient satisfaction. It can be difficult to input patient data accurately while simultaneously ensuring patients feel their concerns are being properly addressed.
The utilization of a medical scribe program can help doctors focus on providing a positive experience for their patients because the responsibilities of recording the patient's past medical history and current complaints are delegated to a trained professional.
This post will examine the relatively new role of the medical scribe, including their training, primary duties and benefits to providers.
What is a Medical Scribe?
A medical scribe is a paraprofessional trained in health information management and the use of health information technology. Their responsibility is to enter patient information into the EHR in real-time during medical exams. Medical scribes allow physicians to focus on direct patient care by managing the non-clinical, clerical tasks of documentation and transcription.
A scribe's chief purpose is to lessen the physician's burden and improve patient flow.
Where Do Medical Scribes Work?
Generally, medical scribes work on-site at one particular hospital or clinic, though they can also work remotely from a HIPAA-secure location. At their assigned facility, they usually partner with several providers and are assigned to physicians on an as-needed basis.
What Are the Duties of a Medical Scribe?
The primary duty of a medical scribe is to record the details of a patient's exam—clinical history, current complaints, diagnoses, procedures performed (either by the physician or other healthcare professionals) and medical orders given (including prescriptions and tests). Scribes may also be present to document the physician's conversations with family members or consultations with other healthcare providers.
Scribes may enter post-exam data into the EHR, including the results of X-rays, MRIs and other lab work so the physician has all of the necessary data to make treatment decisions.
NOTE: Scribes do not provide any patient care or offer any medical advice since they are not licensed medical professionals.
What is the Training Process for a Medical Scribe?
The training curriculum for medical scribes varies slightly between programs, but in most cases, the process is as follows:
Online training program, which covers anatomy, HIPAA regulations, medical terminology, note-taking, EHR and more
Classroom instruction, including regular testing
On-site training with an experienced scribe
Periodic re-assessment of the scribe's skills and efficiency, following assignment to a clinic
Medical scribes also must participate in continuing education training to stay up-to-date on the latest EHR developments.
If a medical scribe program is financially feasible for your clinic, it could have benefits for both you and your patients. Not only can the use of medical scribes improve the patient experience, but it can also increase physician satisfaction by reducing the amount of time you must dedicate to data entry. Consider using medical scribes for a trial period to see how they can benefit your clinic.
Interested in other ways to improve the efficiency of your clinic? Download our free eBook, Stop the Budget Bleed: How Private-Practice Physicians Can Reduce Spend.