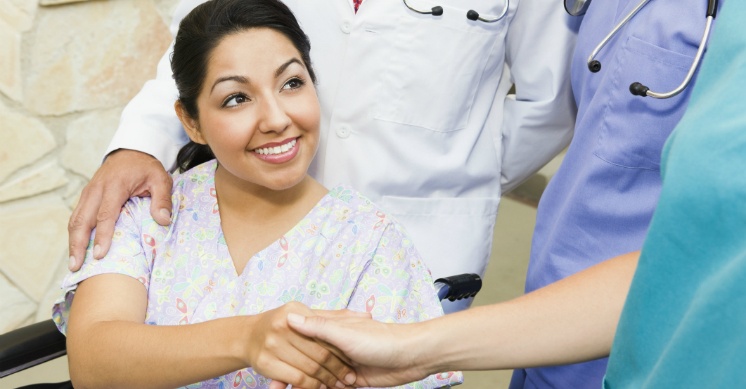 From calming anxious patients and comforting those in pain to managing complex procedures, tackling paperwork and answering countless questions, nurses are among the hardest working professionals in the industry. These everyday superheroes often sacrifice weekends, holidays and family time to care for those in need.
Call us crazy, but we think nurses deserve more than a week of appreciation. To help boost morale and improve employee satisfaction, here are a few easy ways to say "thank you!" to your nursing staff the other 51 weeks of the year:
Boost Empowerment
Two of the greatest ways to show your respect and appreciation for your nursing staff is to give them the tools they need to succeed, and include them in the decision-making process. Thinking of utilizing a new product? Make sure several nurses are present in your value analysis committee. When you bring in a new medication or device, ensure each staff member has an opportunity to ask questions and provide feedback.
Listen to Employee Feedback
When it comes to efficiency and patient satisfaction, your nurses are the boots on the ground. Arguably, they spend more time with patients than any other employee. That's why it's imperative you heed their concerns. Give your nurses a space to bring up issues, challenges and ideas for improvement. This can be in an open forum, such as a meeting, or as a suggestion box. Address these comments and concerns, and take action. Make sure your staff knows their voices are being heard.
Instill a Sense of Community
It's great to feel appreciation from patients and members of the leadership team, but sometimes nurses need to be reminded their peers also have their back. A great way to achieve this is through short, stand-up meetings. Nurses have a lot on their plate, and scheduling a lengthy conference isn't always possible. Instead, gather your busy nursing team for a mini pep rally. Stand in a circle, and ask each team member to say a kind word about the person to the left until everyone receives a confidence-boosting compliment.
Another way to achieve this goal is with a "Thank You" wall where your nursing staff can write notes of thanks and encouragement to one another.
Implement an Employee Recognition Program
Every workplace needs an employee recognition program, and healthcare institutions are no different. Even if you offer competitive pay, stellar benefits and performance-based bonuses, you still need to make an effort to publicly recognize your key players.
Set goals and, each month, celebrate a nursing staff member who exceeds these objectives. Create a "Nurse of the Month" bulletin board that's visible to staff members, patients and visitors. Feature a photo and a blurb on your social media accounts and in your internal newsletter. In addition to highlighting the strengths of your best staff members, the recognition program also gives other employees an incentive to hit their own benchmarks.
By taking a little time and investing effort into these activities, you can help improve workplace morale, increase employee satisfaction, reduce turnover and, best of all, expose your nursing staff for who they really are: hardworking heroes worthy of everyday appreciation.
Empowered nurses are successful nurses. Help your team succeed by providing them with helpful insight from our guide, How Nurses Can Increase Satisfaction through Patient-Centered Care.