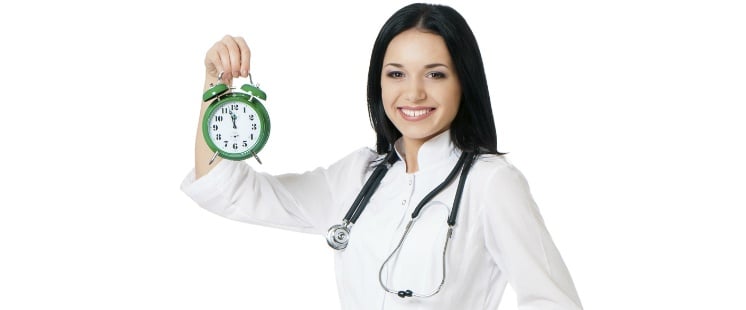 When someone asks you about your workday, how often do you respond "busy," "crazy" or "absolutely nuts"? It's commonly known nurses are among the busiest and hardest working professionals in the industry.
But, while much of your job requires the ability to thrive in a fast-paced environment, there are plenty of timesaving tricks to help you make the most of each day. Here are our top five recommendations of timesavers:
1. Track Your Time
Nurses spend enough time reviewing charts and graphs to know when information is well-organized it's easier to digest. That's why taking a few seconds to track the time you spend on various tasks, either on paper or by using a phone app, will help you identify the areas you may need to increase your efficiency. A fix may come in the form of limiting excessive small talk with fellow staff members, or finding ways to reduce time spent on non-clinical tasks—which brings us to our next tip.
2. Delegate Tasks
Malpractice cases and patient safety concerns often keep nurses from delegating tasks to LPNs, NAs and unlicensed assistive personnel (UAP). However, while you should never delegate tasks that require nursing judgment to unauthorized individuals, delegating administrative tasks, and tasks that don't require a RN license, can free up time to concentrate on higher priorities.
Each facility and healthcare profession has its own delegation rules, and many states have laws to guide nursing delegation. Before you delegate, always consult the necessary resources.
3. Avoid Multitasking
When your plate is loaded, your first instinct may be to tackle as many items as you can at once, and free up your schedule for the many other to-dos sure to come your way. The problem with this method is—although we may feel otherwise—humans aren't wired for multitasking. We have a finite amount of energy each day and, when we mentally switch between multiple tasks simultaneously, we exhaust that energy more quickly. In fact, according to the American Psychological Association, multitasking can curb productivity by as much as 40 percent.
Instead of attempting to race through multiple activities simultaneously, devote your full attention to one task at a time. For example, don't tackle paperwork while on a phone call, and don't check your phone or pager while you're checking on a patient. By fully focusing on the task at hand, you'll find you move more quickly and complete your work more thoroughly.
4. Make Use of Medical Devices
There are numerous medical devices nurses can use to help you become more efficient and make your job easier. Medical devices, such as instant topical anesthetics, can improve the care experience for nurses as well as their patients. Stay up-to-date on the latest devices by reading up on advances in technology and, if possible, attend trade shows. In order to make an impact in your hospital's choices of medical devices, consider joining the value analysis committee.
5. Take Breaks
This may sound counterproductive, but one of the best timesaving tips is to take regular breaks. A study conducted at the University of Illinois at Urbana-Champaign proves brief diversions from a task can increase focus and drive productivity. According to the study, constant focus on one stimulus begins to limit perception of that stimulus.
"Constant stimulation is registered by our brains as unimportant, to the point that the brain erases it from our awareness," says Alejandro Lleras, professor of Psychology at the University of Illinois at Urbana-Champaign.
For a nurse whose job relies upon the ability to respond rapidly, this can prove to be dangerous. However, taking short breaks—even five minutes outside for a breath of fresh air—can keep you mentally sharp and on top of your game.
Being a nurse means constantly working to create balance in your schedule, and making sure you dedicate adequate time for each and every patient you serve. Although handling these responsibilities can be a challenge, implementing the above practices into your day-to-day work will help you save time and enjoy the energy you need to make each day a success.
Looking for more easy tips for improving the patient experience? Download our helpful guide How Nurses Can Increase Patient Satisfaction through Patient-Centered Care.