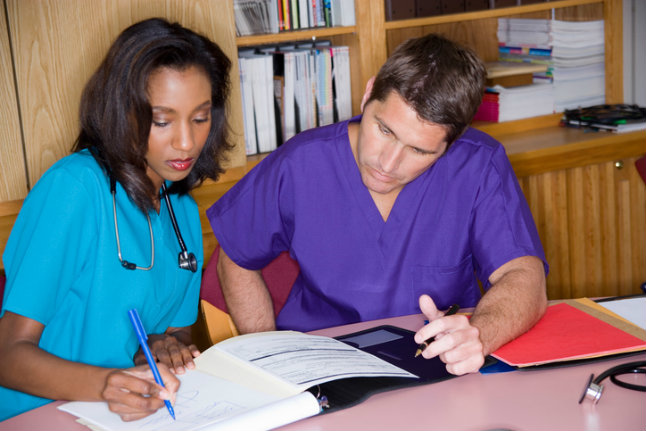 Are you considering going back to nursing school? You're not alone. Twenty-nine percent of RNs plan to pursue a Bachelor of Science in Nursing (BSN) in the next five years, according to a study published in the Journal for Nurses in Professional Development.
Whether you're interested in obtaining a BSN or an advanced degree, ask yourself these four questions before you sign up for classes.
1. What Will the Financial Burden Be?
Going to school is expensive, particularly if you need to take out loans to finance your studies. Before you commit to furthering your education, it's important to consider your financial situation.
Although many large hospitals and healthcare facilities offer tuition reimbursement, you shouldn't expect these funds to cover all of your costs. Caps may limit how much you'll be reimbursed per year, or the program may not provide 100 percent coverage of tuition fees. The costs of books, laptops or other expenses might also not be covered. Some employers cover tuition for bachelor or master programs but may not reimburse students who enroll in doctoral programs.
If your employer doesn't provide tuition reimbursement, you'll want to carefully compare the financial aid package each institution offers and investigate nursing school scholarships provided by the university or national or local organizations.
2. How Flexible Is the Program?
Does the degree program you're considering offer classes that work with your schedule? The internet lets you take classes fully or partly online.
Although online classes can be convenient for busy nurses, they're not necessarily a good choice if you feel there will be too many distractions when you try to watch a lecture at home. As you compare programs, take a look at class types and scheduling options.
3. How Much of a Time Commitment Is Required?
In addition to making time to attend in-person or virtual classes, you'll also need to schedule time to study, write papers and work on research projects. Two-thirds of students who responded to the 2015 National Survey of Student Engagement reported they studied at least 15 hours per week.
Finding enough time for your studies can be challenging if you have young children or care for an elderly parent. If other family members aren't available to ease your burden, babysitters or paid care providers may be an option.
4. How Does This Align With My Career Goals?
It doesn't make sense to spend time and money on a degree that won't improve your nursing skills or enhance your advancement opportunities. It's helpful to first map out the path you want your career to take and then decide which degree will help you meet your goals.
For example, if your ultimate goal is to be a nurse practitioner, it may make be quicker and less expensive to enroll in an RN-to-MSN program, instead of completing a bachelor's degree before enrolling in a master's program.
Going back to nursing school offers many advantages for both you and your patients. In addition to boosting your satisfaction level and expanding career opportunities, your new degree will help you improve your patient care techniques and develop important leadership skills. Your educational experience is much more likely to be productive and rewarding if you have realistic expectations about the benefits, expenses and time commitments involved in obtaining a new degree.
Find out how to give your patients the best experience during their hospital stay with our free eBook, How Nurses Can Increase Satisfaction Through Patient-Centered Care.