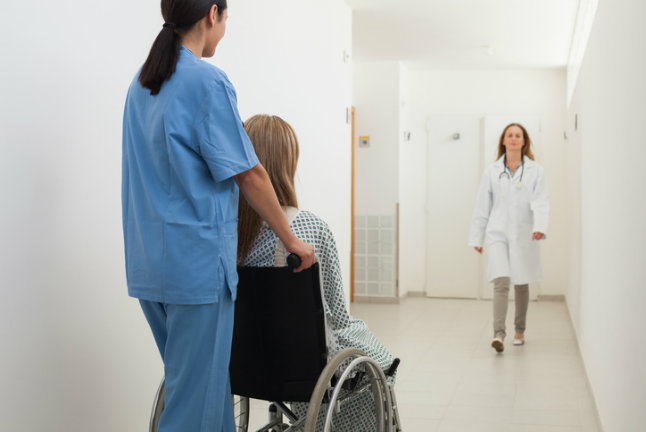 Though healthcare has recently shifted from fee-for-service (FFS) payment structures to a value-based care (VBC) model, efficiency and productivity are still primary concerns for every care provider.
Healthcare technology, inventory management and proper interdepartmental communication are all essential for a productive and efficient healthcare facility. However, a hospital's design can have also have a big effect on patient flow, patient care and the patient experience.
Below are three ways to improve hospital design for increased productivity and efficiency.
1. Keep efficiency in mind.
Time is of the essence in a hospital. Not only do seconds count in critical care situations but when it comes to routine procedures, a couple minutes here and there can also make a big difference.
Design the hospital with patient flow in mind. Consider how patients move through each stage of their visit, from admission to discharge. Here are some examples:
Make sure the front desk isn't too far from patient rooms to minimize the time hospital staff must spend transporting patients to and from their rooms.
Position the nursing station as centrally as possible so nurses can reach it in approximately the same amount of time for each patient room.
Ensure supplies are conveniently located throughout the floor so the care team doesn't have to travel unnecessarily far to retrieve medical supplies.
The goal should be to arrange the floor to minimize the number of steps to get from place to place and reduce the amount of backtracking.
2. Focus on convenience.
In addition to the overall layout of the floor, the design of each patient room should be considered. Arrange rooms so that hospital staff can reach supplies and equipment quickly and easily. It's annoying for nurses to waste time searching for what they need, and it's irritating for patients to have to wait while they find it. If a nurse is consistently hindered in his or her ability to administer care due to poorly arranged patient rooms, it can lead to high levels of frustration and potentially burnout.
Well-organized and well-stocked patient rooms help nurses perform procedures more quickly and efficiently, increasing their productivity. Plus, the extra minutes they save can be spent providing the emotional support patients need. Being able to better connect with patients improves how a nurse feels about his or her role as well as how the patient feels about their hospital experience. Higher job satisfaction leads to decreased turnover, which helps hospitals maintain a sufficient patient-to-nurse ratio—another important element of hospital productivity.
3. Organize by specialty.
Medical equipment is expensive, especially hospital beds. According to the 2016 Modern Healthcare/ECRI Institute Technology Price Index, an electric hospital bed costs a hospital an average of $15,981. Many hospitals struggle to keep an adequate number of beds, and since simply acquiring more beds often isn't an option, hospitals must use their existing resources as efficiently as possible.
One solution is to build care wings, which are like smaller hospitals within the hospital. These wings are dedicated to certain specialties, such as cardiology, oncology or neurology. With specialized wings, hospitals can more effectively coordinate doctors, nurses, equipment and supplies, allowing the organization to optimize its existing resources and increase hospital efficiency. This can improve quality of care, leading to better outcomes and reduced lengths of stay.
The ultimate goal of any healthcare organization is to provide the best experience for its patients and its providers. A well-designed hospital, organized with efficiency in mind, can reduce many of the common headaches nurses and doctors face, helping them to focus on their patients and the care they administer.
Another great way to improve hospital efficiency is by using a topical anesthetic. Use our free chart, Comparing Topical Anesthetics, to see which is best for your facility.