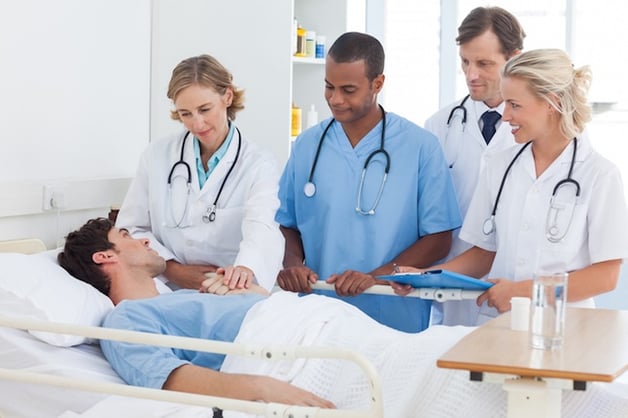 Hospital management teams are always on the lookout for methods to trim costs and improve efficiency. Since nurses account for a large percentage of the hospital staff, a frequently used strategy to decrease costs is to reduce the number of nurse labor hours. However, considering the Affordable Care Act (ACA) has placed greater emphasis on value-based care, the appropriate nurse-to-patient ratio is essential to guarantee patients receive the highest quality care.
Traditional nurse staffing systems fail to account for certain variables, resulting in staff shortages and an inability for nurses to spend adequate time caring for their patients. Newer staffing models are more flexible and can be adjusted to fit not only the needs of the entire hospital but also the needs of individual units.
Here are four approaches hospitals can take to ensure safe nurse-to-patient ratios.
1. Create a Formal Staffing Plan
Rigid nurse-to-patient ratios may not be the best solution for your hospital. An alternative is a formal staffing plan, which ensures each patient is cared for by the nurse with the most appropriate skills. A staffing plan is a unit and shift-specific scheduling strategy that supports standardization of care in each department. With an established strategy in place, healthcare organizations can ensure staffing decisions address the most common factors, including: patient acuity; the number of admissions and discharges; and each nurse's level of expertise.
2. Reduce Turnover by Addressing the Underlying Causes
If an organization is losing staff in a short timeframe, there will inevitably be a staffing shortage, regardless of what other measures are put in place. The most often cited reasons why a nurse decided to leave a hospital are poor working conditions and insufficient wages. To help decrease turnover, hospital management should consider the following:
Limiting mandatory overtime
Delegating paperwork to other qualified staff
Adopting up-to-date technology to improve the workflow
Offering competitive compensation commensurate with experience
3. Establish a Staffing Committee
A staffing committee allows hospitals to take a collaborative approach to staffing. Staffing committees are required for healthcare organizations in some states. Even if it is not mandated in your state, a staffing committee is still a good idea. The committee typically provides input on scheduling procedures as well as staffing policies and ensures these standards are consistent across a specific unit or the entire hospital. Having set guidelines in place helps lower the chances of an unsafe nurse-to-patient ratio.
4. Consult the Staff Nurses
Direct-care nurses are on the frontlines of patient care, which means they have the best insight into care delivery and patient flow. While a staffing plan may appear appropriate on paper, the individuals responsible for creating the staffing plan can't take into account unexpected events such as nurses calling in sick or floating to another unit or increases in admissions. Direct-care nurses can take note of scheduling issues and make suggestions for improved processes.
Appropriate nurse staffing levels have been shown to have numerous benefits including improvements in patient satisfaction, decreased readmissions and reduced nurse fatigue, which has the added benefit of increasing nurse retention. If finding a way to decrease costs is the goal, fewer nurses is not the solution. Any funds saved by having a lower nurse-to-patient ratios will be negated by potential penalties incurred for failing to meet care quality standards.
Ensuring safe nurse-to-patient ratios is an important part of patient-centered care. To learn more about patient-centered care, download our free guide, How Nurses Can Increase Satisfaction through Patient-Centered Care.