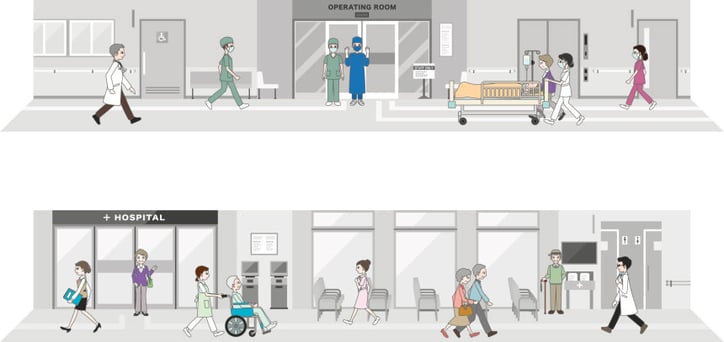 Bottlenecks caused by patient flow not only reduce efficiency and revenue, but also affect patient satisfaction levels. Improving flow starts with evaluating current systems and procedures to determine whether they are effective or are just hampering your efforts to provide quality healthcare.
Below are a few ways you can eliminate patient flow bottlenecks.
Change Shift Times and Staffing Levels to Meet Demand
Fifty years ago, hospital administrators wanted to be sure departments were adequately staffed Monday through Friday, during normal working hours. But in today's 24/7 world, that model is no longer efficient or effective.
If Mondays and Saturdays are particularly busy in the ER, it makes sense to schedule more staff during those days and make appropriate changes to shift start and end times. For example, your ER usage statistics might indicate that a significant number of patients begin arriving at 7 a.m. Monday, the same time as the nursing shift changeover. Changing shifts to end and start at 6 a.m. means patients won't have to wait until changeover ends to be seen.
Spread Procedures Throughout the Week
Bottlenecks are likely to occur when the majority of procedures are performed during the first part of the week. Spacing out procedures means patients will have shorter wait times and staff will be less stressed, but it also will mean changes must be made to weekend staffing levels in all departments.
It's important to make sure your laboratory, radiology services, physical therapy department and other departments are adequately staffed on the weekends to handle the needs of patients who undergo surgery or other procedures later in the week.
Start a Conversation
Let's say your nursing staff is complaining that their patients wait an average 45 minutes before being seen in radiology, and the radiology department complains it's being inundated with patients in the mornings.
It may seem obvious, but a meeting with nursing and radiology together can help both sides understand the issues and develop a solution. In this case, scheduling non-urgent tests for the afternoon and using a central scheduling process to make sure certain time slots aren't overbooked can alleviate high demand.
Use Patient Management and Data-Tracking Software
This software not only compiles data, but offers real time information on current wait times and bottlenecks. Flow management options help staff determine next steps during triage and provide prompts during the stay so patients can move on to the next stage in treatment. Real-time updating means everyone can access lab results and medical records as they're added.
Taking advantage of software tools, re-evaluating traditional scheduling processes and involving staff to create solutions can help you eliminate bottlenecks that affect efficiency and patient satisfaction.
Sometimes all it takes to improve patient flow is to have the right products on hand. Learn about the newest member of the patient comfort line: Pain Ease Single Patient Package.