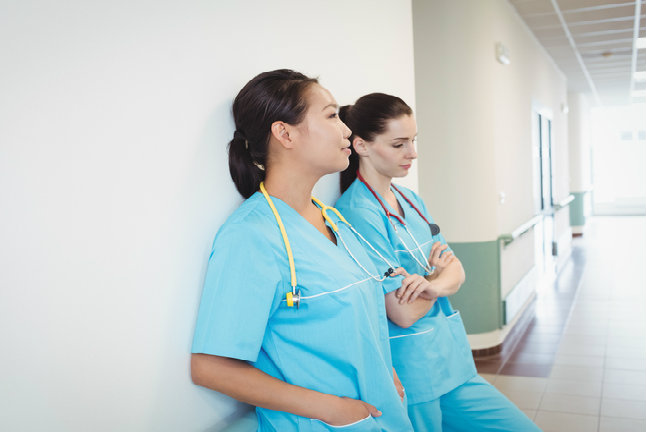 No matter how involved and empathetic you are as a nurse leader, there probably are a few things that your staff members don't feel comfortable sharing with you.
Unfortunately, without an honest dialogue, it's impossible to make the changes that will improve their skills, satisfaction and engagement.
Take a look at a few things that your nurses may be reluctant to tell you.
"I'm too nervous to ask for help."
Most nurses chose their career because they want to make a difference in their patients' lives. Although patient care is a primary responsibility for staff nurses, it's no longer the only focus.
Thanks to advancements in healthcare technology, nurses are expected to learn how to operate complicated medical equipment and navigate the hospital's electronic health record (EHR) system all while improving patient satisfaction.
Employees who don't feel confident using new technology may be too embarrassed to share their challenges with their nurse leader—especially if they're afraid that revealing their problem could affect their job security. In addition to holding large classroom training sessions, it's just as necessary to offer informal, one-on-one or small group sessions to identify and resolve any weaknesses.
"My plate is too full."
Budget constraints often mean more work for staff nurses. Although everyone shares the burden, sometimes the workload can become too onerous for even your most energetic nurses.
Because tired, overworked nurses are more likely to make mistakes, it's important to find solutions to staffing issues before they impact patient care. Burned-out nurses are also more likely to start looking for new jobs. In fact, 63 percent of employees in a Paychex survey indicated that they would look for a new position if they felt overworked.
"I need to feel supported by you."
It's hard to feel excited about your job if you feel as if your boss doesn't appreciate your efforts.
Although you can't magically turn a cranky patient into one who is a joy to be around or fix the buggy computer system yourself, the support a nurse leader offers can make a big difference to the staff nurses.
Complimenting a nurse on maintaining her cool while dealing with a difficult family or patient situation or interceding with the IT department when they've been ignoring your employee's plea for assistance can help your staff feel supported and valued.
"I'd like a real relationship with you."
When you think about the jobs you've truly enjoyed, all of them probably had one thing in common: a positive relationship with your supervisor.
While you can't become your employees' best friend, an all-business, all-the-time approach won't create the ideal working environment either. Showing an interest in your employees' lives increases engagement, according to Gallup's State of the American Manager: Analytics and Advice for Leaders.
Although you might not think spending a few minutes asking about a co-worker's vacation or discussing the latest movie is anything out of the ordinary, your nurses appreciate an effort to get to know them on a personal level. Plus, if your staff feels comfortable with you, they're more likely to come to you with questions and concerns.
Connecting with your staff can feel like a full-time job in and of itself, particularly if you supervise nurses who work different schedules. Although it can be time-consuming, proactively addressing issues and making a little time for conversation throughout the day can help your staff feel supported and appreciated.
Looking for a way to motivate your staff? View our free SlideShare, Nurse Leaders: Empower Your Team to Provide Patient Centered Care.