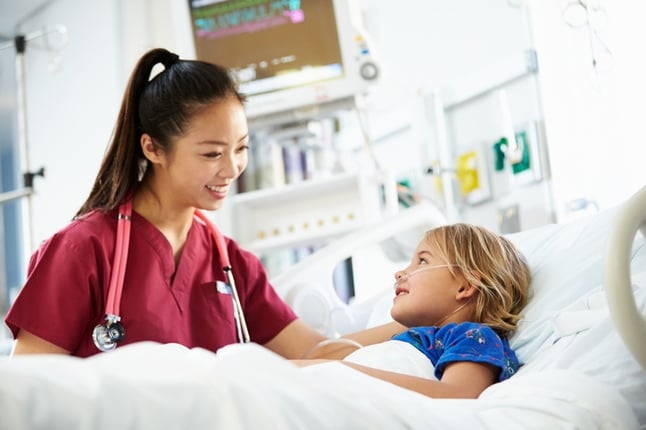 Hospital visits and trips to the doctor's office are rarely pleasant, and chronically ill pediatric patients (along with their families) must make those treks on an all-too-often basis. Healthcare professionals who sympathize with this and adopt patient-centered care tend to see higher levels of patient satisfaction since the focus is on providing the best possible experience for their patients.
In this article, we discuss three types of pediatric therapy that can help foster a more positive environment for your patients and their loved ones.
1. Expressive Therapy
Expressive therapy is the practice of using different creative mediums (for example, visual art, music and dance, among others) to facilitate healing and encourage emotional expression. It is founded on the idea that each individual has a unique healing process and that using creative expression as a therapeutic tool can benefit this process.
Expressive therapy is especially useful for pediatric patients since children have particular learning and communication styles—for example, visual, auditory and kinesthetic—which traditional talk therapy may not complement. Children can choose the mode of expression that makes them most comfortable, allowing caregivers to guide patients through the healing process, rather than forcing the child to address his or her issue head-on, which may hurt more than help.
Below are the primary approaches in expressive therapy:
Art therapy
Dance therapy
Drama therapy
Music therapy
Play therapy
Poetry therapy and Bibliotherapy
Sandplay therapy
Integrated arts approach or intermodal therapy
2. Sibling Therapy
The relationship a child forms with siblings is generally the longest-running and can be the most complex. Many of a child's skills and personality traits are based on interactions with brothers and sisters, so this type of therapy, which involves including a patient's sibling(s) in therapy sessions, can help pediatric patients learn the appropriate ways to act, converse and grow as a person.
Sibling therapy can assist pediatric patients in the following areas:
Coping and calming strategies
Expressing emotions
Problem-solving
Self-awareness and self-esteem
Verbal and nonverbal communication
The habits we form in childhood affect us well into our adult years. Healthcare providers can help children develop healthy attitudes and lifelong skills by working with the individuals their patients trust and love.
3. Animal-Assisted Therapy
Though rigorous research on the efficacy of animal-assisted therapy (also referred to as animal-facilitated treatment) is lacking, the preliminary findings from a recent ongoing study suggest health benefits, particularly for pediatric patients.
These findings suggest animal-assisted therapy can positively impact blood pressure and heart rate in pediatric oncology patients. Preliminary results indicate that canine encounters appear to improve the level of anxiety in both patients and their parents.
Stephanie Cooper-Greenberg, a therapy dog handler with Johns Hopkins Hospital in Baltimore, says, "With a therapy dog visiting, young cancer patients stop being patients and become children again." Therapy animals can offer pediatric patients respite from the stress of treatment and provide an overall better experience for them and their families.
Treating pediatric patients can be especially challenging since children tend to not have a thorough understanding of their situation or the proper coping mechanisms to help them handle these burdens. But by using the patient-centered techniques of expressive therapy, sibling therapy and animal-assisted therapy, healthcare professionals can help pediatric patients and their families feel a bit more at ease.
Interested in how patient-centered care can help your facility? Read our free eBook, How Nurses Can Increase Satisfaction through Patient-Centered Care.