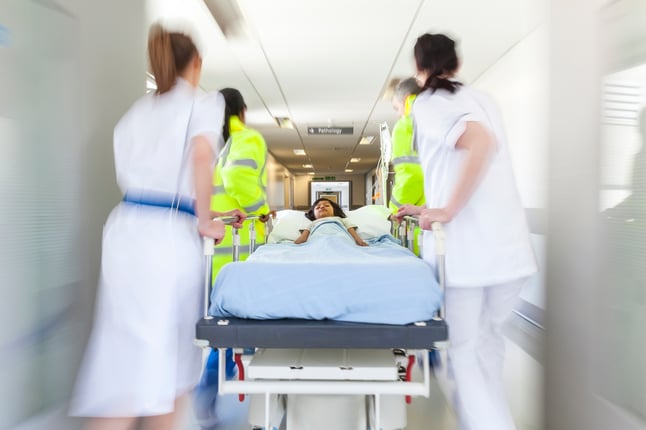 Many pediatric trauma patients are terrified when they arrive at the hospital. Fears about the extent of their injuries and concerns about their family members can make the experience even more overwhelming.
When children are too upset to respond to questions about their injuries, it can be difficult to know exactly how to treat them. Nurses who act as supportive advocates for their pediatric patients can help children cope with a potentially life-changing event and minimize emotional trauma.
Here are four ways nurses can improve the hospital experience for pediatric trauma patients.
1. Set the Tone
Speaking to pediatric patients in a soft, quiet voice and having a relaxed, even-tempered demeanor can help make them feel more calm. Children react to the attitudes of those around them, so remaining composed can help ease their anxiety and make them feel more comfortable discussing the situation.
2. Provide Updates About the Child's Parents
In some cases, an injured child will arrive at the hospital before their parents. If the parents were also involved in the incident, let the patient know their parents are being taken care of. If only the child was in an accident, reassure the patient his or her parents are on the way. This can help the child focus on directions and questions from the medical team.
If children or teenagers are concerned their parents will be angry they are hurt because they did something foolish—for example, crashing the car or running out into the street without looking both ways—reduce their stress by explaining their parents are only concerned about their health.
3. Explain Everything
Things happen quickly in an emergency or trauma room. If young patients are confused about what's happening, their anxiety level can increase significantly. If possible, take the time to explain the purpose of the procedures and instruments. Increasing their understanding can minimize their fears and improve compliance.
If the hospital has a child life specialist on the trauma team, this staff member can be called upon to reassure the child and provide detailed information on procedures and treatments.
4. Use the D-E-F Protocol
The D-E-F Protocol offers an excellent framework that enables nurses to help young patients and their families handle a traumatic injury. D-E-F stands for:
Distress: Assess and treat the child's pain and concerns
Emotional Support: Address the child's emotional needs
Family: Evaluate the child's family's stressors and coping resources
The National Child Traumatic Stress Network offers a Pediatric Traumatic Stress Toolkit for Healthcare Providers that explains how to use the D-E-F Protocol to address the physical and emotional aspects of trauma.
Nurses play a vital role in making a visit to the emergency room or trauma center less distressing for young patients. Their efforts to calm and reassure pediatric patients can have a significant impact on both patient experiences and satisfaction.
Looking for ways to make the hospital experience a positive one for young patients? Read our guide, How You Can Improve Pediatric Patient Comfort.