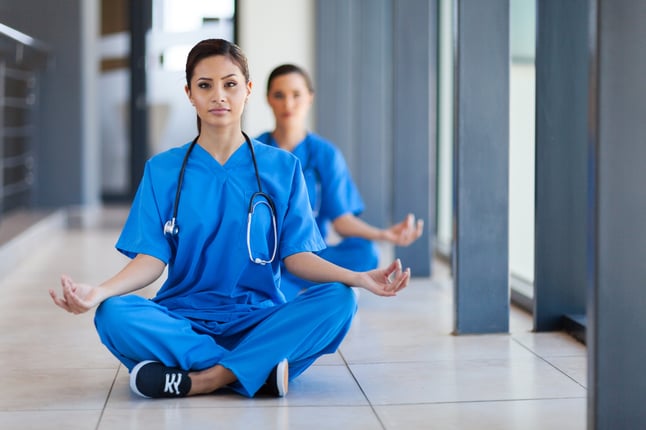 When your career is dedicated to improving the health of others, it can be easy to forget about your own health. However, in order to provide the highest quality care to your patients, you must take care of yourself, as well.
While you may do your best to exercise, eat right and get plenty of sleep, there are many other ways you can improve your well-being you may not have considered. Here are three nursing self-care exercises you should try during your next shift.
Deep-Breathing Exercises
When you're under stress, your sympathetic nervous system is activated, leading to increased heart rate, increased blood pressure and rapid and shallow breathing. Actively slowing down your breathing can help bring these physical responses under control.
A popular breathing exercise is called 4-7-8 breathing. It is simple, requires a small time commitment and can be done anywhere. To practice 4-7-8 breathing, follow these steps:
Take a slow, deep breath through your nose to a count of four
Hold your breath for seven seconds
Exhale completely through your mouth for eight seconds
Repeat as many times as needed
Regularly practicing deep breathing exercises can help activate a relaxation response when you find yourself in an intense situation during a shift.
Progressive Relaxation
Nurses are often so stressed throughout the day that they may not even realize their muscles are constantly tensed and not relaxed. Progressive relaxation, a powerful nursing self-care exercise, is the practice of systematically tensing and then relaxing particular muscle groups with the goal of helping the individual better control muscle tension.
Progressive relaxation shows you what true relaxation feels like and helps you recognize when you are beginning to become tense. When you can distinguish between a tensed muscle and a relaxed muscle, you can initiate the relaxed state at the first sign of involuntary muscle tension.
To practice progressive relaxation, start by focusing on a specific part of the body, such as your legs, feet, hands, or neck and shoulders. Take a slow deep breath and squeeze the muscles in that area as hard as possible for five seconds. Be sure you can really feel the tension in the muscles (even if it's a little uncomfortable) but don't put yourself in any pain. After five seconds, exhale and quickly release the tensed muscles. It is important to deeply focus on the difference between the tension and relaxation. Stay in the relaxed state for around 15 seconds and then move onto the next muscle group.
As you become better at progressive relaxation, you'll be able to more quickly recognize when your muscles are tense and relax them.
Reframe Negative Thoughts
Nursing self-care requires acknowledging negative feelings, not denying them. Once you have acknowledged feelings of anger, anxiety or frustration, you must move past them. If you dwell on the negative feeling, it will continue to grow, become more intense and only fuel your stress.
Instead of obsessing over a mistake you made or a negative comment someone made about you, reframe your negative thoughts with self-supporting statements. Here are some examples:
I'm not perfect, and that's OK.
It's great when everything works out exactly the way I want, but I can handle situations when things go wrong.
I don't need to take this criticism personally.
It takes two to have a conflict, and I can choose not to engage in one.
These three exercises are great for busy nurses who may not have much spare time during a shift. When you're away from the hospital and have more time you can dedicate to self-care, you can also try meditation, yoga or hypnosis. The important thing is to make sure you're investing as much time in your own well-being as you invest in the well-being of your patients.
Give your staff the tools and support they need to excel. View our free SlideShare, Nurse Leaders: Empower Your Team to Provide Patient-Centered Care.