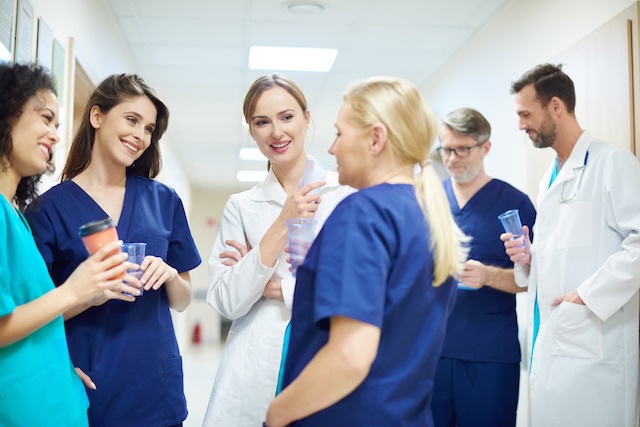 When a nurse actively pursues ways to expand his or her clinical knowledge and direct care skills, the benefits are twofold: 1) it can help stave off feelings of professional stagnation, and 2) it increases his or her value to the employer.
Seeking out opportunities for improvement can support better job security, boost your advancement potential and offer a general sense of accomplishment. Here are four ways you can stand out from the crowd and improve your nursing job security.
Embrace Learning
The more you know, the more valuable you are to your employer.
Consider enrolling in training sessions offered by the hospital, or if your hospital offers tuition reimbursement, don't be afraid to take full advantage of it. A bachelor of science in nursing (BSN) is becoming a minimum requirement in many hospitals, but even if your hospital doesn't require a BSN, a merger or relocation may make the degree a necessity in the future.
Since the number of nurses receiving their BSNs is growing, you'll need to do even more to stand out. If you already have your BSN, you may want to consider pursuing a master of science in nursing (MSN).
Remember: Learning doesn't always have to take place in a classroom setting. Keeping up-to-date on the latest treatments, protocols and technology by reading journals is a simple way to stay informed. Improving your soft skills—such as communication, leadership and conflict resolution—also can help you advance in your career.
Master the Latest Healthcare Technology
Healthcare has changed more rapidly in the last 50 years than in any other time in history, thanks to technological advancements.
The Online Journal of Issues in Nursing has identified the seven following technologies it expects to dramatically change the practice of nursing:
Robotics

Genetics and genomics

Less invasive treatment and diagnosis tools

3-D printing

Biometrics and computerized physician/provider order entry

Clinical decision support
By taking the time to become an expert in one or more of these areas, whether through formal or informal educational channels, you improve your nursing job security and have a big advantage when you apply for a promotion or new job.
Join a Hospital Committee
The best way to get the attention of the decision-makers at your hospital is to work with them directly. Joining a committee gives you the opportunity to demonstrate your talents and meet people who hold high positions in the organization.
Because experienced nurses are more likely to be invited to join committees that set policies or evaluate new protocols, novice nurses may not have access to those opportunities. However, that doesn't mean that you can't make a difference. You can volunteer for the patient advisory board or even the employee activities committee. Once you're on a committee, you can impress administrators and other hospital leaders and prove your value to the organization.
If personal and professional growth are high on your list of priorities, you should certainly try one (or all) of these tips. Pursuing higher education or training, becoming an expert in healthcare technology and joining hospital committees can all help improve your nursing job security.
Do patients give your hospital rave reviews? If not, read our free whitepaper, A Nurse's Guide to Positively Impacting HCAHPS Scores.