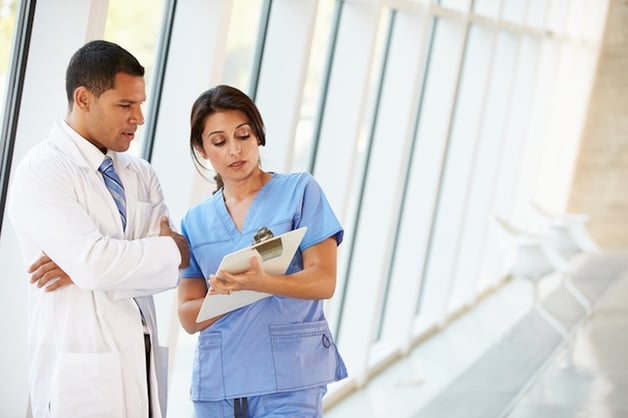 Nurses have always played an integral role in providing quality care. New legislation from the last five to six years has provided even more opportunities for nurses to have an important part of enacting change.
There's never been a better time for nurses to take an active role in healthcare management and innovation because of the Affordable Care Act. As a nurse leader, you are uniquely positioned to shape healthcare reform efforts in your hospital.
Keep these four focus areas in mind as you manage healthcare reform at your organization.
1. Intrapreneurship
Unlike entrepreneurs who pursue innovative business ventures and start brand new enterprises, nursing intrapreneurs create new programs within existing hospitals. Since nurse leaders are intimately familiar with the needs of both their facility and patient populations, they're ideally suited to establish new programs and policies that help hospitals improve patient satisfaction, increase access to care, comply with HIPAA mandates and ease the transition to the value-based payment system.
Whether you create mini walk-in clinics specifically for diabetes patients or develop new systems to decrease spending while improving quality of care, you'll find plenty of opportunities to make an impact.
2. Research
Nurses are the perfect candidates to lead research efforts. They see firsthand the effects of new policies and treatments. Tracking data can give you the evidence you need to propose new care models or suggest changes to protocols.
Clinical research can also improve patient safety and outcomes, both of which affect reimbursement. Organizations that participate in medical research are more likely to follow clinical guidelines and apply new therapies quickly, resulting in better outcomes than those of patients treated in a non-research setting.
3. Diversity
Encouraging people of all racial and ethnic backgrounds to consider a career in healthcare benefits patients and staff alike. Improving diversity makes it easier to communicate effectively with patient populations and ensures that services truly meet the needs of all patients.
Reaching out to high school students and offering shadowing opportunities are still important ways to encourage an interest in nursing. Plus, your nursing intrapreneurs are sure to come up with a few creative ways to increase diversity and reach the next generation of nurses.
4. Collaboration and Leadership
In years past, hospitals consisted of information silos that made providing excellent patient care more difficult. Although most healthcare facilities now realize the importance of improving communication and collaboration among departments, there is still much work to do.
As a nurse leader, you can provide the leadership skills needed to help your colleagues navigate the increasingly complex healthcare environment and make changes that will benefit your community, staff and patients alike.
The changing healthcare landscape offers unparalleled opportunities for nurses to make significant contributions that will influence healthcare reform. Your knowledge and expertise is invaluable as your hospital navigates these new challenges.
Patient-centered care is another great way to increase patient satisfaction and improve patient outcomes. Learn more with our SlideShare, Nurse Leaders: Empower Your Team to Provide Patient Centered Care.