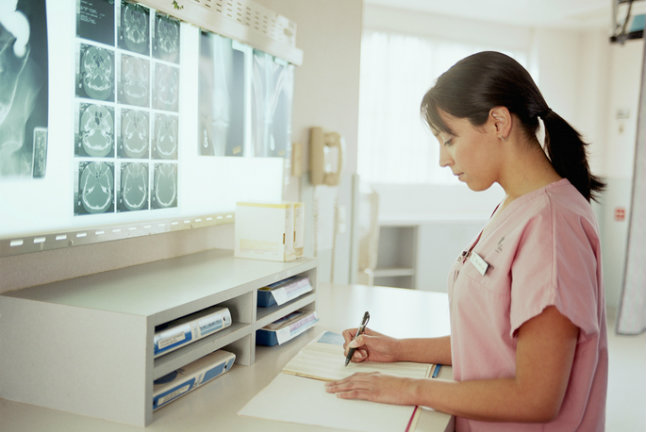 Above all else, a nurse's first priority is to provide high-quality care to his or her patients.
What comes after that can be different for every nurse, but likely the most common secondary goal is to be as efficient and productive as possible. Each nurse has his or her own tried-and-true methods for increasing efficiency and productivity, but sometimes it can be a good idea to think outside the box.
Here are four unexpected ways to improve nursing productivity.
1. Standardize Exam and Patient Rooms
Efficiency suffers when nurses have to change the way they perform procedures in every patient room because the equipment and supplies are in different places. On top of that, it's frustrating for the nurses.
Not only should regularly used supplies such as gloves, IV start kits, gauze and topical anesthetics always be stocked, but these supplies and equipment should be in the same location in every room. Knowing where everything is, regardless of which room the nurse is in, allows him or her to concentrate on the care they are providing, which can decrease procedure time.
Hospital staff also should agree on a standard set of supplies to keep in each room. Personal preferences should be set aside and instead the focus should be on maximizing efficiency and reducing unnecessary variation.
2. Arrange for Consistent Access to Direct Care Resources
Even the most experienced nurse can't handle every aspect of a patient's care on his or her own. He or she needs the support of healthcare professionals, care technicians and other assistive personnel to make sure patient needs are satisfied.
To ensure nurses have dependable levels of support staff, written staffing plans should be provided for each shift and should show the availability of staff resources such as the clinical pharmacist, hospitalist, patient transport team, rehabilitation technician and wound care specialist.
Rather than nurses worrying if they have support staff at their disposal or if they're responsible for certain parts of the patient's care, they can focus on their primary responsibilities in an interdisciplinary fashion.
3. Maintain Positive Employee Morale
The management team likely already knows encouraging and empowering hospital staff improves retention and decreases turnover, but they may not realize promoting a positive work atmosphere can also increase productivity.
In a high-pressure, fast-paced hospital environment, it's easy for nurses to feel overwhelmed, and high levels of stress can affect a nurse's ability to maintain efficiency. However, when nurses feel recognized for their hard work, it can motivate them to push through the especially challenging shifts.
Showing nurses appreciation doesn't necessarily have to be a grand gesture—it can be something as small as a handwritten note thanking them for their dedication to their patients or treating them to a nice lunch.
4. Perform Bedside Blood Testing
Hospital visits often require blood tests. The standard procedure is for a medical professional to draw blood and send the samples to a lab located elsewhere in the hospital where a lab technician will test the sample and log the results. Once the results have been inputted into the computer system, the nurse or physician reviews them. This process can take several hours, depending on the length of the queue.
However, rather than using a centralized processing system, performing bedside blood testing (also known as point-of-care testing) can reduce service time and allow providers to make diagnoses faster and begin treatment sooner. Additionally, according to a 2012 study, bedside blood testing has been shown to decrease the 72-hour readmission rate.
While there are many well-known ways to improve nursing productivity—for example, using healthcare technology, delegating appropriately and reducing time spent on non-clinical tasks—it's important for everyone from staff nurses to hospital management to consider some less common ways to boost efficiency. Try implementing some of the tips above in your hospital. You may be surprised by the results.
High patient satisfaction levels can increase compliance, lead to better outcomes and reduce readmission rates—all of which help efficiency. Learn how patient-centered care affects patient satisfaction in our free eBook, How Nurses Can Increase Satisfaction through Patient-Centered Care.