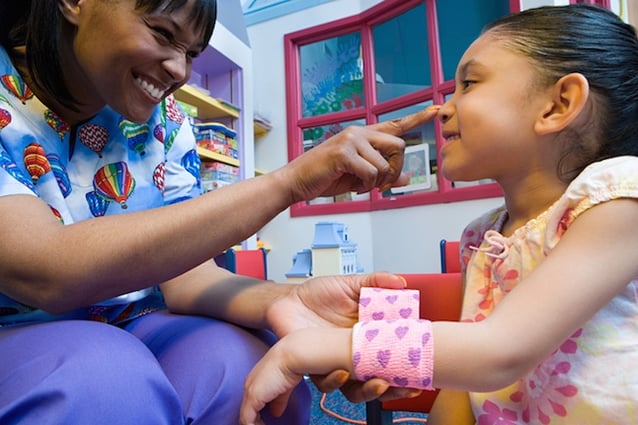 Whether a child is taking a math test or playing in a championship or receiving treatment in a hospital, he or she is bound to be anxious.
Just as a teacher has study guides to help the student get ready for the test or a coach runs drills to help the athlete be confident for the game, healthcare providers (and parents) can help pediatric patients prepare for a hospital stay using medical play.
Medical play is a therapeutic approach that uses real and pretend medical equipment, stuffed animals and dolls to assist pediatric patients in understanding not only the hospital itself but also what is happening with their own bodies. It is focused on activities that both enable a child to respond effectively to difficult medical situations and also support the child's normal development.
In this post, we'll discuss the best ways to leverage medical play and the benefits it can provide to pediatric patients, their parents and healthcare professionals.
The Positive Impact of Medical Play
At its core, the goal of medical play is to provide pediatric patients a comfortable avenue to discuss things they don't understand, express their concerns and learn techniques for coping with stress. Medical play can also have a widespread impact on a pediatric patient's hospital stay.
For example, multiple studies demonstrated that medical play reduced anxiety for pediatric patients during the entire course of their hospital stay—from admission to discharge. These studies also showed patients who engaged in medical play had higher levels of cooperation during stressful procedures and were more willing to go back to the hospital for additional treatment.
Furthermore, medical play has been shown to decrease physiological responses to stress, including rising blood pressure, increased sweating and elevated pulse rate.
Advice for Effective Medical Play
Medical play is a powerful tool for parents and care providers alike, but to get the most benefit for the patient, consider the following tips:
Allow the child to choose the start and stop times for play and give them plenty of time to engage in the activities.
If the child is starting to feel overwhelmed—for example, they're being introduced to too much information at once—take a break. Trying to tackle too many subjects at once can be counterproductive.
Try to give the child as much control over play as possible. Let them choose which medical supplies are needed and invite them to assign the various roles to each stuffed animal or doll. In other words, don't say, "This is Nancy the Nurse." Instead, offer the child the doll and say, "What is this doll's name? What does she do at the hospital?"
Most importantly, listen to the child as he or she engages in medical play. You can learn what they do and don't understand or what concerns them the most, and then address those questions and fears accordingly.
Medical play is certainly helpful for improving the pediatric patient hospital experience, and it's also beneficial for the healthcare team. By helping a patient get a better grasp on their plan of care, it encourages him or her to feel more in control of their treatment, which can lead to improved outcomes. Childhood play is essential for a child's psychological development, and medical play supports continued emotional well-being in spite of the stress of a hospital stay.
For more advice on providing a pleasant hospital stay for pediatric patients, download our free eBook, Young, Sick and Scared: How You Can Improve Pediatric Patient Comfort.