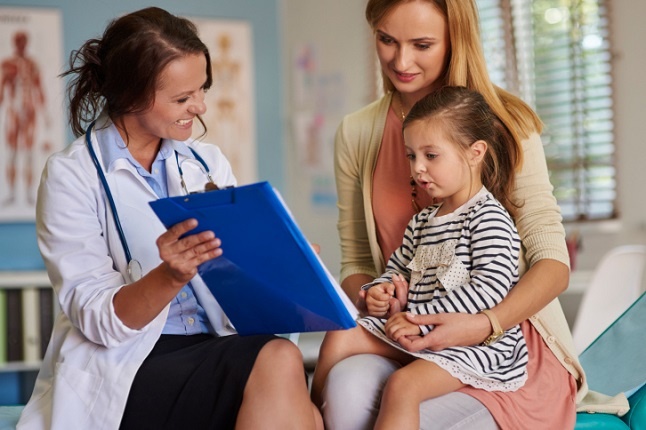 Running a private practice is doubly hard when you're a pediatrician. From crying, anxious children to nervous adults, not only do you have to keep your patients happy, but you also have to make sure parents are satisfied, too.
The best pediatricians have found ways to improve pediatric patient experiences using easy-to-implement tactics. Here are a few strategies you can use to support both your patients and their families.
1. Up Your Distraction Game
Distraction is an important technique that can decrease patient anxiety, but are you taking full advantage of the power of this strategy? Waving a toy in front of a child or asking a question about a favorite sports team can momentarily distract a child, but isn't quite as helpful if you must perform a somewhat lengthy procedure.
Take a hint from Dr. Baruch Krauss of Boston Children's Hospital, who has turned distraction into an art form. Dr. Krauss gives children a job to do, such as coloring all of the dog's ears a different color in a coloring book. The technique not only keeps kids busy for a considerable amount of time, but takes their minds off everything that's going on around them.
2. Make Satisfaction a Priority
Did you ever notice negative online reviews of products or services usually start with a description of a problem, but then focus primarily on the way in which the customers were treated by the company's staff? If company employees don't care about their problems, can't be bothered to find a solution or are rude to them, customers may vow never to come back.
Whether you're running a car repair business or treating young patients, it's imperative you embrace basic customer service principles.
Ensure patients and their parents return to your practice by making their experiences positive from the moment they step through your doors. A friendly greeting from your staff sets the tone for the visit. Make sure team members understand that patient satisfaction is a priority for your practice and consider sending them to customer service training if compliance is an issue.
Make it easy for parents to interact with your office by using the latest technology. If you have a patient portal on your website, take full advantage of it by allowing parents to access shot records, obtain test results, make appointments and ask questions.
3. Reduce the Pain of Injections
If children associate a visit to your office with pain, it's only natural they'll be fearful and anxious. When children must receive injections, look for ways to reduce pain. Here are a few tactics offered by Science-Based Medicine:
Offer a topical anesthetic: Pain is real, no matter the patient's age. Younger patients may not be able to hide their fear or reaction to pain, causing several scared patients and worried parents to be in your office at any given time. Offering a topical anesthetic for simple procedures such as vaccines can help ease pain and anxiety, keeping your office calm and quiet for all patients.
Rub the injection site: It may be a low-tech option, but one study found repetitive rapid rubbing and shaking of the skin proximal to the site of injection during penetration reduced the level of pain and discomfort.
Deep breathing: Deep breathing can have a beneficial effect in pain reduction. Ask older children to breathe in and out slowly, or give younger children a pinwheel to blow on.
The About Kids Health website recommends preparing children prior to an injection. Discuss the following topics before introducing any needles:
What is going to happen – "The doctor is going to use a needle to give you a vaccine in your arm"
Why they need to get a vaccine – "The vaccine will protect you from getting sick"
How it will feel – "It might feel like a little pinch"
What will be done to manage their pain – "We are going to play a game, so that you do not notice it very much"
Keeping patient and parent satisfaction uppermost in your mind is the key to running a successful pediatric practice. If your current approach isn't bringing the results you want, experiment with a few strategies to improve the patient experience in your office.
For more ways to improve the pediatric patient experience, get your copy of Young, Sick and Scared: How You Can Improve Pediatric Patient Comfort.