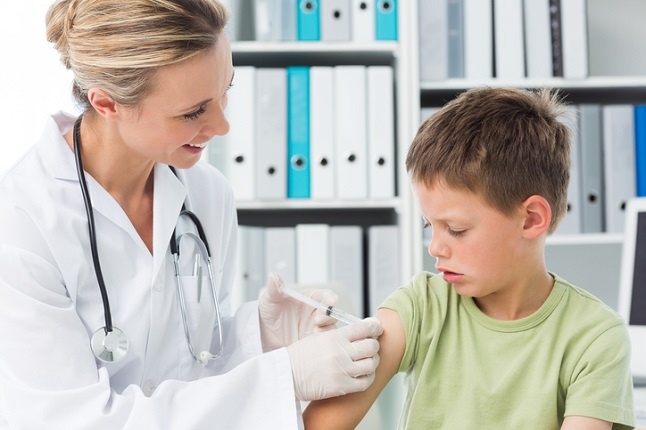 Along with buying art supplies and new outfits, immunizations can be an important part of the back-to-school checklist. It's important for healthcare providers to keep in mind some valuable points when administering vaccines.
Below are three essential things healthcare professionals need to know about back-to-school immunizations.
1. Immunization requirements vary by state, age and disease.
Each state has its own specific vaccine requirements, which apply to individuals attending public and private schools as well as daycare facilities. For example, all 50 states require the DTaP (diphtheria, tetanus, acellular pertussis), MMR (measles, mumps, rubella) and polio vaccines, but only three states mandate the HPV (human papillomavirus) immunization. Additionally, all 50 states have immunization requirements for children in kindergarten, but only 34 have requirements for college students.
NOTE: Almost every state has established immunization exemptions, either temporary or permanent, though some are more broad than others.
2. There are two categories of immunization schedules.
Recommended Immunizations:
The CDC's recommended immunization schedule lists all routine vaccinations for newborns through individuals aged 18 years. It includes the minimum ages of administration and approved dosing intervals for 13 different diseases from hepatitis B (administered to newborns) to human papillomavirus (administered at age 11).
The schedule also has the ranges of recommended ages for certain high-risk groups—for example, children with cancer or chronic diseases or patients who live in countries where certain diseases are more prevalent.
Catch-Up Immunizations:
The catch-up immunization schedule is for patients age 4 months through 18 years who were not administered a dose at the recommended age. It is also for patients who were administered the second or third dose in a series more than 30 days after the suggested month.
The schedule divides the vaccines into two groups: one for children age 4 months to 6 years, and one for children and adolescents age 7 through 18 years.
It shows the minimum intervals between doses as well as vaccine- and age-specific exceptions.

For example, if the first meningococcal vaccine is administered between age 13 and 15 years, a booster shot is recommended at age 16 years. However, if the first dose is administered at age 16 years or older, a booster is not required.
NOTE: A vaccine series does not have be restarted for any reason, regardless of the time that has transpired between doses.
3. Annual vaccine schedules from the Advisory Committee on Immunization Practices (ACIP) can change from year to year.
The ACIP conducts regular reviews of the current recommended immunization schedules for children and adolescents, ages 0 through 18 years, to ensure the schedules reflect the current recommendations for FDA-licensed vaccines. The ACIP will revise the schedules based on new information and documentation standards.
Rather than copying and pasting each year's schedule onto your facility's website, the CDC encourages the use of content syndication, which is more reliable and accurate and guarantees the organization has the most recent versions of the schedules as soon as they are published or revised. Instructions on implementing the content syndication code can be found here. The CDC also offers technical assistance for this process.
Staying up-to-date on immunization requirements and recommendations can help healthcare providers be more efficient and potentially avoid costly mistakes. In addition to its online resources, the CDC also offers a scheduling app medical professionals can use to access the latest information on vaccinations.
Any needle procedures, including immunizations, can cause anxiety for pediatric patients. Download our free guide, How You Can Improve Pediatric Patient Comfort, to learn how you can help your younger patients relax during unpleasant procedures.