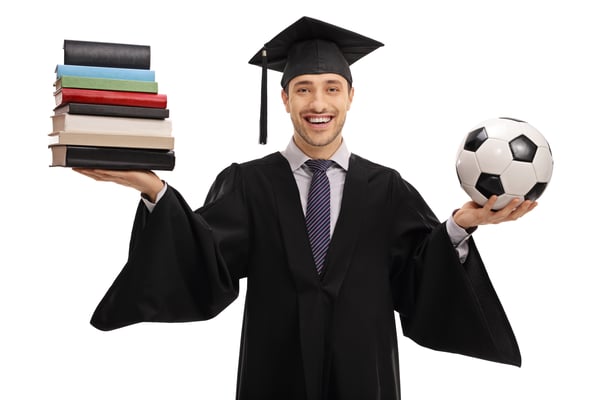 With hours of practice, weekly competitions and long bus rides to tournaments, it's no surprise that young athletes can have a hard time balancing success on the court and in the classroom. While school should always come first, competitive sports have been seen to increase the positive aspects of leadership, team-building and social capital that are beneficial to child and youth development. Whether you're a parent, coach or athletic trainer, it is important to help the young athletes in your life find a balance between the two. With these tips, any young athlete can be the MVP of the game and the classroom.
The art of scheduling: Time management and effective scheduling go hand-in-hand. Scheduling out your day hour-by-hour is key for any busy bee, especially student athletes. Help the young athlete in your life fill up their planner by blocking out time for all homework assignments, practice, games and family obligations as well. With an organized schedule young athletes will feel less overwhelmed and less likely to procrastinate, leading to increased motivation and success both on the court and in the classroom.
Engaging with their education: Making personal connections can make a world of difference when it comes to building motivation and passion to succeed. Encourage your athlete to build relationships with their teachers as they do with their coaches. When students and teachers have a positive relationship it can have great results on long-term academic performance. Whether they stay after class to ask questions or just participate more, becoming engaged with their education could help keep students on track and even bring struggling students up to par.
Utilize free time effectively: When students are juggling multiple homework assignments, studying for tests and finishing projects while also having sports practice, it can make school feel overwhelming. By properly utilizing small bits of time from study halls, bus rides to away-games and free time in class, students will start to chip away at large assignments.
Goal Setting: Goal setting is important for both long-term and short-term aspirations. Encourage your athlete to not only set goals for their sport, but for their academic performance as well. Utilizing SMART goals that are Specific, Measurable, Attainable, Relevant and Timely gives each goal a structure that is easy to follow. Instead of just having a goal to get better grades, SMART goals will help them outline exactly how they will get an A on their next test with easy to follow steps and a realistic approach.
College Focus: It is never too early to start talking about college. If your athlete is lacking motivation in the classroom, have an in-depth talk about the college recruiting process and the importance of good grades. The last thing college coaches want is for their athletes to flunk out, leading them to often look for recruits with strong academic records who can balance both college level classes and high-stress athletics. Having good grades and test scores can also open up more opportunities for merit scholarships. With many schools not offering athletic scholarships or not having enough athletic money to cover all recruits, the opportunity for merit scholarships can be a positive asset in the recruiting process.
With both the sporting and academic world becoming increasingly competitive, finding a proper balance between school and athletics has never been more important. By following simple tips like effective scheduling and goal setting, your student-athlete can find success in both areas of their life.
Improve athletes' comfort and satisfaction with advice delivered directly to your inbox. Subscribe to the Instant Ice blog, Beyond the Sidelines.