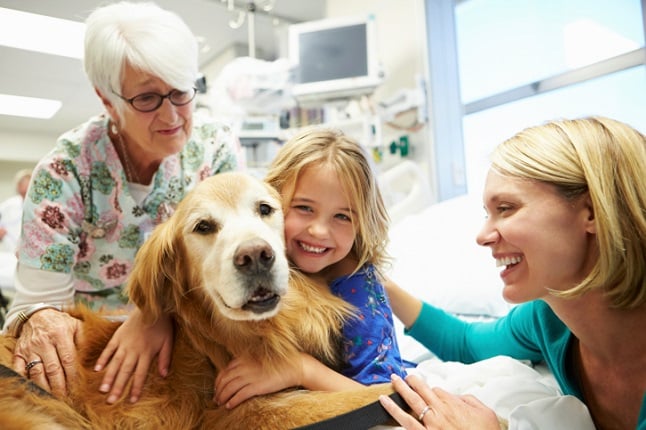 With patient satisfaction ratings tied to reimbursement levels, it's more important than ever to ensure patients have a positive experience at your hospital. A pet therapy program offers a low-cost, low-tech way to improve the patient experience without impacting staffing levels. Not sure if a pet therapy program is right for your hospital? Consider these benefits before you make your decision.
Reduced Stress and Anxiety
Patients who receive visits from pet therapy dogs experience less stress and anxiety. They tend to feel calmer, happier and more relaxed, according to one study. Pet therapy visits can also play a role in lowering epinephrine and norepinephrine levels. Hospital stays, particularly if they're long, can lead to feelings of isolation. But some patients who interact with therapy dogs may feel more connected to the outside world and less lonely. Not surprisingly, patients also reported more positive opinions of their entire hospital stays if they had received visits.
Better Experience for Special Patient Populations
A hospital stay can be a scary experience for children, particularly those too young to fully comprehend why they're in the hospital. In addition to relieving stress and anxiety, a pet therapy visit can also distract young patients and reduce the perception of pain. Elderly patients may face special challenges due to diminished hearing, sight or mental capacity. Even those who can no longer hear or see benefit from petting and interacting with an animal.
Benefits for Staff
Interacting with pets is also a great stress buster for your staff. After the Hospital of the University of Pennsylvania in Philadelphia started its "Pet a Pooch" program in conjunction with the Pennsylvania Society for the Prevention of Cruelty to Animals, employees reported feeling happier and more relaxed. Employees visited the dogs during their lunch hours and returned to work refreshed and ready to tackle the rest of the day.
Rehabilitation Benefits
Therapy dogs can help patients reach rehabilitation goals. Although a patient may be reluctant to perform exercises, he may be perfectly willing to toss a ball to a dog. The presence of a pet can help motivate children to get out of bed and be more active. After all, it's incredibly hard to resist a friendly dog.
Low Costs
Pet therapy is a relatively low-cost program. You'll need to appoint an employee to coordinate the program half-time or full-time, depending on the size of your facility, but other than personnel expenses, costs are minimal. When you partner with a pet therapy organization, such as Pet Partners or Therapy Dogs International, you won't have to worry about training dogs and their handlers. These groups evaluate and certify dogs to ensure that they have the right temperaments to work with hospital patients. Dogs also must pass health evaluations before they can visit your hospital.
It's rare to find a program that's not only low cost, but can benefit your entire hospital. Why not consider adding a pet therapy program to your list of services?
There are many additional ways to increase patient satisfaction through patient-centered care. You can find several approaches outlined in this free guide.