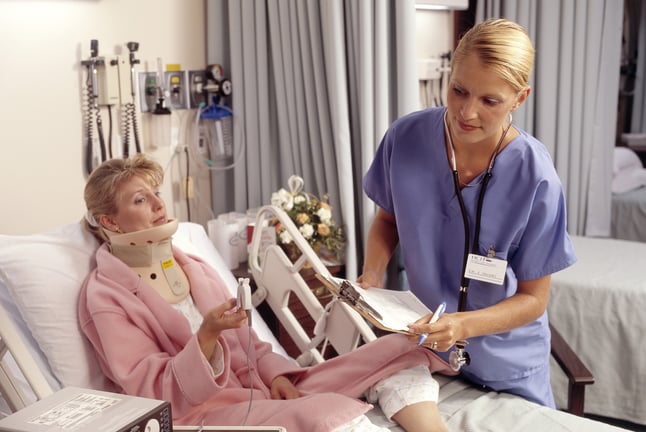 No patient looks forward to a hospital stay, but while they are there, nurses have the greatest opportunity to make the visit a little more bearable.
When a patient has a positive experience, it not only supports the health and wellness of the patient but also the health and wellness of the hospital and its care providers.
Here are three benefits a hospital can expect when its nurses are encouraged to improve the patient experience.
Better Patient Outcomes
Most patients will have limited to no clinical knowledge, which means they might not even know what they don't know. However, patients want to feel as if they are truly a part of their care team and aren't simply following orders.
If you make sure the lines of communication are open between the care team and the patient as well as their family and let the patient know, "There are no dumb questions," he or she will feel more comfortable voicing his or her concerns and offering their input. This allows patients to be more confident about their treatment plan and encourages them to take a more active role in their own care. When a patient has increased compliance, it improves the chances of a positive outcome and decreases unnecessary readmissions.
Happier (and Healthier) Employees
Going "above and beyond" doesn't have to be a grand event; it could be something as simple as using a topical anesthetic before a needle procedure. Most patients will recognize the nurse took the time to make his or her stay just a little bit better and will let the nurse know he or she appreciates it. Satisfied patients can help nurses feel more satisfied with their jobs and, as a result, lower their stress levels and reduce the chances of burnout.
Nurses with lower levels of stress are also less likely to develop medical conditions, which, in turn, can decrease the hospital's insurance costs. Healthy employees are also less likely to miss work due to illness. Thus, hospital management doesn't have to worry about finding someone to cover their shift (which means having to pay less overtime).
Decreased Turnover
Another benefit of happier and healthier nurses is increased retention and decreased turnover. This has two primary benefits for the hospital:
Nurse leaders will have to spend less time on recruiting and hiring, allowing them to focus on other important aspects of their role
The patients who have more frequent hospital visits will likely see the same nurses during their stay, making it easier to build strong relationships
Empowering nurses to consider ways to improve the patient experience also gives them the opportunity to be proactive and think of recommendations for how the entire staff can contribute. If this recommendation becomes part of the standard protocol, it helps give the nurse a sense of accomplishment and shows the nurse his or her input is appreciated. This inspires the nurse to stay at the facility and witness the positive effect of his or her suggested change.
Focusing on increasing efficiency and improving the patient experience can sometimes make nurses feel as if they're being pulled in two separate directions simultaneously. However, when nurses are encouraged to find time to consider how they can enhance the patient experience, it can have a ripple effect that helps both the patient and the hospital, too.
How does building an empowered and efficient team benefit you, your staff and your hospital? Learn more in our free SlideShare, Nurse Leaders: Empower Your Team to Provide Patient-Centered Care.