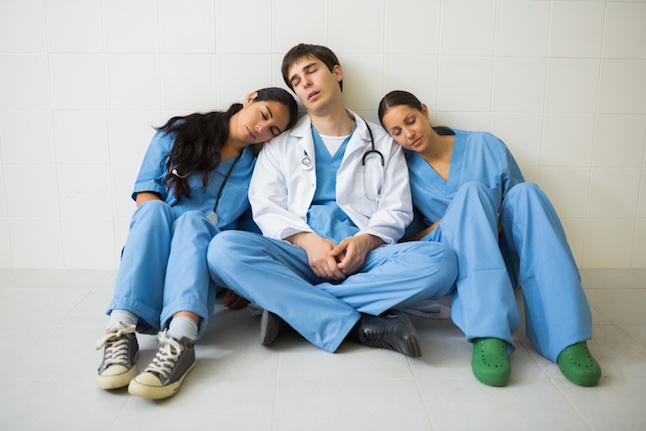 Even the thought of a double shift at the hospital can be exhausting. And if it's an unplanned double, it's especially taxing since you haven't had a chance to properly prepare.
While a double is definitely challenging, there are a few ways you can make them a little easier. Here are five ways nurses can get through double shifts.
1. Stay Fueled and Hydrated
During a busy shift, keeping up your caloric intake is likely low on your list of priorities. However, the only way to maintain your energy is with food—more importantly, the right food.
While it may be convenient to grab a candy bar and a soda out of the vending machine, the energy from junk food will be short-lived, and when you crash, you'll feel even worse than you did before. Swing by the cafeteria for high-protein snacks like Greek yogurt and granola or low-sodium jerky.
Don't indulge in a large meal, either. Grazing (eating little handfuls of food periodically throughout your shift) provides your body with continuous fuel and won't weigh you down the way a heavy meal will.
And don't forget water! Being hydrated is just as important (if not more) as fueling with food.
2. Take a Moment to Yourself
Your day is dedicated to your patients and colleagues, which means your well-being is often on the backburner. Nurses who don't take advantage of breaks tend to have higher levels of stress and burnout.
During a busy shift, it's crucial to step away every so often, retreat to somewhere away from the hustle and bustle of the hospital. Try taking a brief 10-to-15 minute power nap. If that's not possible, simply being in a quiet place alone can make a world of difference.
3. Keep Comfortable
Every veteran nurse knows the power of a comfortable pair of shoes, but changing your footwear halfway through the day also can have a big impact on how you feel. Swapping your sneakers for a different pair changes pressure points and activates different muscles, relieving overworked areas of your feet and alleviating pain.
Speaking of feet, being on them all day is exhausting. Whenever you have the chance, sit down, even if it's only for a minute or two. Giving your feet little breaks can stave off soreness.
4. Use Your Team
Don't be afraid to lean on your colleagues. Let them know you're working a double and ask for their help. You don't have to do everything by yourself, so don't feel guilty about needing support from your team—it's why they are there, after all. Remember: You're helping your unit by working a double, and most of your coworkers will be more than willing to show their appreciation.
5. Stay Busy
Little breaks are certainly necessary, but the most important thing to do is not to let the fatigue set in. Stay moving as much as possible and use any extra time to take care of the tasks that may have fallen by the wayside. For example, you can catch up on your documentation. Read through charts and lab results and make notes about clinical status updates. You can also tidy up the nurses' station or organize the supply closet.
Surviving unexpected nursing double shifts can throw even a veteran nurse for a loop. However, eating well, staying comfortable and relying on your team can help ensure you provide the best possible care throughout your entire shift but also make the hours go by much more quickly.
What else can you do to give your patients the best quality care? Download the free eBook, How Nurses Can Increase Satisfaction through Patient-Centered Care, to find out.