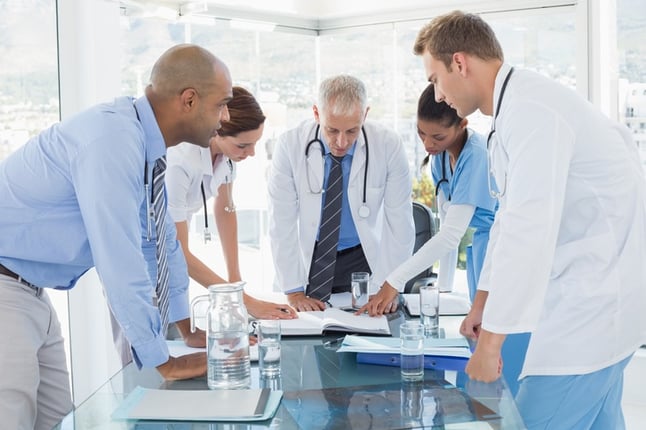 Unclear or inadequate communication is frustrating, but communication breakdowns can be downright dangerous when it comes to patient care.
In large hospitals and medical centers where information is exchanged between multiple departments, there is an even greater risk that crucial details won't reach the right person in a timely manner. Unfortunately, this can lead to poor outcomes and even death.
CRICO Strategies studied more than 23,000 medical malpractice lawsuits and discovered 7,149 of these cases occurred because facts, figures or findings were lost between those who had the information and those who needed it.
Building a strong communications strategy can help you avoid these preventable errors and ensure your nursing staff can concentrate on what they do best—providing patient-centered care. Below are a few steps you can take to improve hospital communication by making sure everyone is on the same page.
1. Encourage Participation in Multidisciplinary Rounds
Multidisciplinary rounds allow representatives from different specialties to discuss in real time a patient's plan of care, daily goals and potential transfer or discharge. They should be attended by anyone who cares for patients, including nurses, physicians, pharmacists, social workers and physical therapists, among others.
Multidisciplinary rounds are an example of the patient-centered care model and can help improve communication between healthcare professionals and their patients, reduce length of stay and readmissions and enhance patient satisfaction.
2. Institute Team Huddles
Team huddles are one of the measures the Denver Health and Hospital Authority instituted to improve hospital-wide communications. They created a communications toolkit, which any hospital can use to build their own multidisciplinary communications strategy.
Team huddles are short, interdisciplinary meetings that take place at the beginning of a shift. During huddles, staff members:
Discuss patients who may require more complex care, such as those who have urinary catheters or heparin drips
Go over issues that will affect the unit that day (for example, required room maintenance, non-functioning equipment or an inoperable elevator)
Evaluate the workload for each nurse and make adjustments if necessary to ensure staff members aren't overwhelmed
Exchange information about patients who will be discharged or transferred to other units
Review issues that affect performance—for example, common charting errors—and explain how to resolve and prevent the issues
Share general information from hospital or nursing administrators
3. Implement Situational Briefings
The Denver Health and Hospital Authority also created the SBAR (Situation Background Assessment Recommendation) technique, which helps providers discuss developments in a patient's health that require immediate attention.
Situation: What is the patient's current clinical status? Have there been acute changes or complaints?
Background: What are the factors related to the event? What are the patient's relevant medical history, admitting diagnosis, vital signs and labs?
Assessment: What is the current diagnosis?
Recommendation: How should this patient be treated?
Using the SBAR technique ensures every team member has the same information when discussing a patient and will take the same approach to treatment.
Opening the lines of communications offers many benefits not only for patients but also for nurses and other staff members. Working in a collaborative environment can be less stressful and inspires the entire team to work together to find innovative patient care solutions.
Looking for ways to improve the patient experience? Read our free guide, How Nurses Can Increase Satisfaction Through Patient-Centered Care.