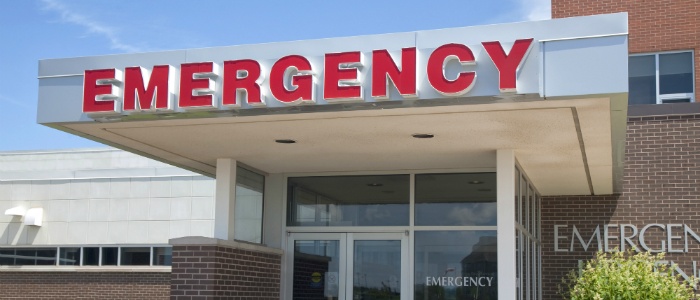 In the fast-paced environment of the emergency room, every second counts. From sprained ankles to minor lacerations to heart attacks, ER nurses are on the front line, and under pressure to provide care that is appropriate, efficient and compassionate.
But according to the American College of Emergency Physicians, studies continue to show that pain is undertreated in the emergency department.1
Administering an instant topical anesthetic skin refrigerant, like Gebauer's Pain Ease® helps ER nurses improve efficiency and provide compassionate comfort. Pain Ease temporarily controls the pain of needle and minor surgical procedures. Pain Ease can also reduce the anxiety of patients who are nervous about needle sticks or procedures such as suturing and IV starts.
Pain Ease works instantly, unlike topical lidocaine based creams or gels that must be administered at least 30 minutes prior to a procedure. Instant numbing reduces time spent waiting to administer an injection, to start an IV or to prep a patient for suturing or other minor surgical procedures.
A versatile tool, Pain Ease can be applied to intact skin, minor open wounds and intact oral mucous membranes and be re-applied as needed. Pain Ease is nondrug and can be used by any licensed health care practitioner without the order of a physician.
According to the Journal of Emergency Nursing, "Improving pain control is a critical goal in emergency health care. As patients' primary health care advocates, emergency nurses play a vital role in resolving undertreated pain in their patients."2 While pain management gives nurses the satisfaction of knowing that they've provided compassionate care, it can reflect well on their hospitals' HCAHPS scores.
By using Pain Ease, nurses can show compassion instantly, diminishing pain and providing comfort to patients who are nervous about injections and minor procedures. It's a quick and simple step but one that is beneficial to patients, nurses and health care facilities.
Click here to see Pain Ease instantly control procedural pain.
Pain Ease is a topical anesthetic skin refrigerant that helps nurses provide a better quality of care by improving patient comfort. Learn more about Pain Ease and where it can be purchased.
-------------------------------------------------
1 http://www.acep.org/Clinical---Practice-Management/Optimizing-the-Treatment-of-Pain-in-Patients-with-Acute-Presentations/
2 http://www.sciencedirect.com/science/article/pii/S0099176710004393